Honours and Awards GK - General Knowledge Questions and Answers
58f51ef78f57a10c7572cad8
595217d8febf4b764b059d3a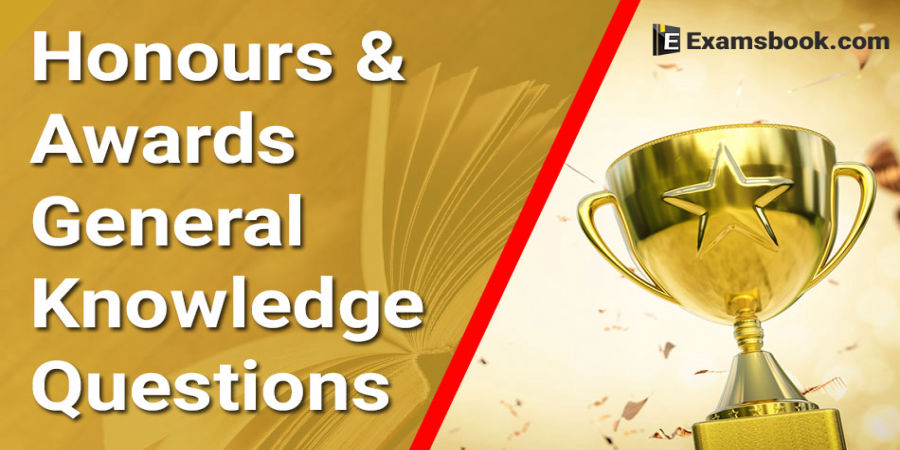 Today I am providing Honours and Awards GK Questions for Competitive Exams. You can get easily 2 – 3 marks by study the blog of Honours and Awards General Knowledge Questions and Answers.
Awards and Honours GK is very important for any type of competitive exams and practice with Award GK Questions. You should also check Awards and Honour General Knowledge Questions for more Awards and Honour GK practice.
These questions are useful for any competitive exam like IAS, bank PO, SSC CGL, RAS, CDS, UPSC exams and all state related exams.
Awards and Honour's GK Questions - General Knowledge questions and answers
1. Who was the first actor to get Oscar Award?
A. Montgomery
B. Fairbanks
C. Janet Gayner
D. Charlie Chaplin

2. Which country awards the Nobel Prize?
A. Ireland
B. Sweden
C. England
D. America
3. Who won the Nobel Peace Prize in 2010?
A. Albert Arnold Gore
B. Mohammed Unnus
C. Liu Xiaobo
D. Mohamed Elbaradei
4. Who among the following is not a recipient of Bharat Ratna?
A. Vinobha Bhave
B. Sardar Vallbhabhai Patel
C. Lal Bahadur Shastri
D. Dr.S. Radhakrishnan
5. Hari Om Ashram Trust Awards are presented to outstanding
A. Sportsmen
B. Scientists
C. Literary writers
D. Journalist
6. Who was the first Indian to receive a Nobel Prize?
A. Mother Teresa
B. Hargobind Tagore
C. CV Raman
D. Rabindranath Tagore
7. The Nobel prize for Economics was instituted in 1967, but was first awarded in
A. 1967
B. 1988
C. 1969
D. 1970

8. Who was the first Indian lady actress to receive the Padma Shri Award?
A. Smita Patil
B. Nargis Dutt
C. Meena Kumari
D. Madhubala
9. Who was the first Indian to receive the Magaysay Award?
A. Indira Gandhi
B. TN Seshan
C. Kiran Bedi
D. Vinoba Bhave
10. Which of the following is India's highest honour in the field of literature?
A. Vyas Samman
B. Kalidas Samman
C. Jnanpith Award
D. Saraswathi Samman
If you like these Awards and Honours GK Questions, please give rating, share to your friends by clicking share button and comment below.
<!
Showing page 1 of 9
en
https://www.examsbook.com/awards-honours-related-general-knowledge-questions-answers
9
1
awards-honours-related-general-knowledge-questions-answers