GK Questions - Basic General Knowledge Questions and Answers
58f51ef78f57a10c7572cabd
58873e50dd4df72728284be5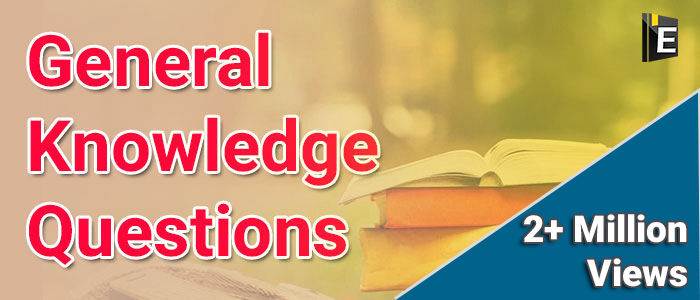 Current General Knowledge Topic for Competitive Exams: 2018


General Knowledge Questions: 2018

21. Who among the following got the Bharat Ratna award before becoming the president of India?
A. R Venkataraman
B. Dr. Rajendra Prasad
C. DR Zakir Hussian
D. V.V. Giri

Ans .D

22. Who is the first non-Indian to receive the Bharat Ratna?
A. Martin Luther King
B. Mother Terasa
C. Khan Abdul Ghaffar Khan
D. Aubin Mehta

Ans .C

23. When did Mother Teresa win the Nobel Peace Prize?
A. 1975
B. 1979
C. 1981
D. 1982

Ans .B

24. Which one of the following glasses is used in bullet proof screens?
A. Soda glass
B. Pyrex glasss
C. Jena glass
D. Reinforced glass

Ans .D

25. Which substance is used to retard the setting action of cement?
A. CaO
B. AlO
C. CaSO.2HO
D. NaO + KO

Ans .C

26. The mineral in which India depends largely on imports is
A. Iron Ore
B. Bauxite
C. Mica
D. Mercury

Ans .D

27. The last Mughal Emperor was
A. Akbar
B. Bahadur Shah
C. NoorJehan
D. Babur

Ans .B

28. The state which leads in agricultural production is
A. Haryana
B. Punjab
C. Karnataka
D. Tamil Nadu

Ans .B

29. The longest mountain range in the world is
A. The Alps
B. The Himalayas
C. The Andes
D. The Rockies

Ans .C

30. The most populous city in the world is
A. Paris
B. London
C. Peking
D. Tokyo

Ans .D

Showing page 3 of 44
en
https://www.examsbook.com/basic-gk-general-knowledge-questions-answers/3
44
3
basic-gk-general-knowledge-questions-answers