Daily Current Affairs Questions 2019
5d09d823c2a05a2ffbf5db4a
595217d8febf4b764b059d3a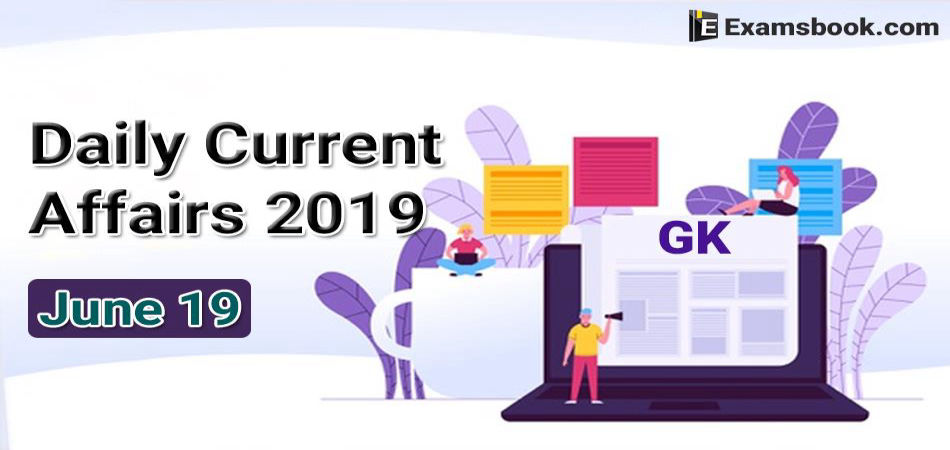 Here, I am providing Daily Current Affairs Questions 2019 (June 19) for those learners who are preparing for competitive exams. In this post, I have updated the most important questions answers around the Daily GK with latest current affairs questions and answers about many topics covered.
I have prepared Daily Current Affairs Questions 2019 for competitive exam blog to increase your General Knowledge level as well as increase your confidence level for competitive exams.
Daily Current Affairs Questions June 19 
Q.1 Who won the Femina Miss Grand India 2019 title?
(A) Shreya Shanker
(B) Shivani Jadhav
(C) Sanjana Vij
(D) Anukreethy Vas

Ans .  B

Q.2 Zuzana Captiva was sworn in as the first female president of which country?
(A) Slovakia
(B) Poland
(C) Serbia
(D) Bulgaria

Ans .  A

Q.3 As per the Global Peace Index 2019, what is the position of India?
(A) 92
(B) 63
(C) 122
(D) 141

Ans .  D

Q.4 Which is the host country of the Intersessional meeting of Kimberley Process (KP)?
(A) Japan
(B) India
(C) Denmark
(D) Israel

Ans . B

Q.5 Who chaired the fifth Governing Council Meeting of NITI Aayog?
(A) Nirmala Sitharaman
(B) Ram Nath Kovind
(C) Amit Shah
(D) Narendra Modi

Ans .  D

Q.6 How many members had won Sahitya Akademi's Yuva Puraskar, recently?
(A) 22
(B) 45
(C) 23
(D) 18

Ans .  C

Q.7 HDFC sells further __________ stake in Gruh Finance for ₹899 crore.
(A) 4.22%
(B) 3.55&
(C) 2.08%
(D) 5.00%

Ans .  A

If you have any problem or doubt regarding Daily GK Current Affairs Questions for Competitive Exams, you can ask me in the comment section. To more practice for Current Affairs Questions, Visit next page.
Showing page 1 of 3
en
https://www.examsbook.com/daily-current-affairs-questions-2019
3
1
daily-current-affairs-questions-2019