Daily GK Current Affairs Questions 2019 August 08
5d4bd4f29fa74d5c6dca749b
595217d8febf4b764b059d3a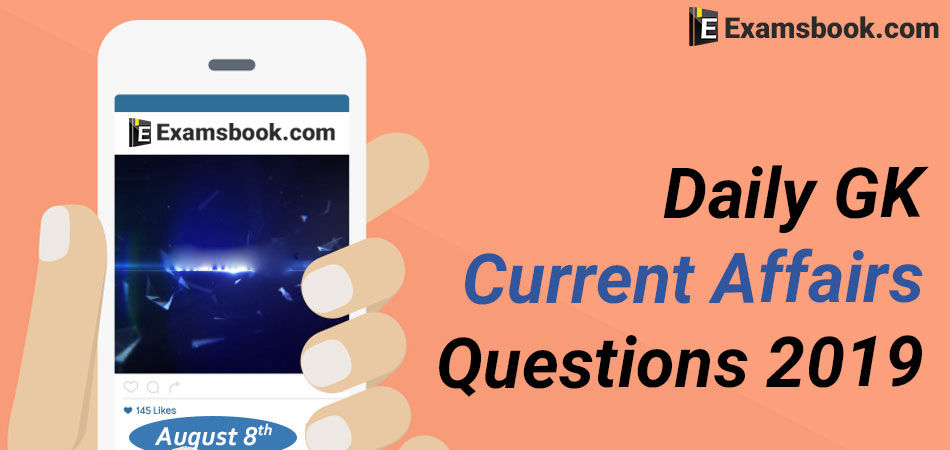 I have prepared Daily GK Current Affairs Questions 2019 for competitive exam blog to increase your General Knowledge level as well as increase your confidence level for competitive exams.
Here, I am providing Daily GK Current Affairs Questions 2019 (August 08) for those learners who are preparing for competitive exams. In this post, I have updated the most important questions answers around the Daily GK with latest current affairs questions and answers about many topics covered.    
Q.1 Who issued a red alert, security checking to take more time?
(A) Kolkata Metro
(B) Delhi Metro
(C) Chennai Metro
(D) Mumbai Metro

Ans .  B

Q.2 __________ is also known as the Land of Thousand Lakes.
(A) Iceland
(B) Greenland
(C) Finland
(D) Japan

Ans .  C

Q.3 Which Article is related with "Abolition of Untouchability"?
(A) Article 20
(B) Article 19
(C) Article 18
(D) Article 17

Ans .  D

Q.4 Name the company which tops in the Euromonitor's 2019 list of India's top retailers.
(A) Amazon
(B) Walmart
(C) Reliance Group
(D) Tata Group

Ans .  B

Q.5 In which Year slave dynasty started in India?
(A) 1206
(B) 1210
(C) 1212
(D) 1216

Ans .  B

Q.6 Who has approved Singapore Stock Exchange and National Stock Exchange of India Ltd to operate jointly in GIFT city?
(A) Ministry of Corporate Affairs
(B) SIDBI
(C) SEBI
(D) Ministry of Finance

Ans .  C

Q.7 India and Gambia signed MoU in __________.
(A) In the field of transport and trade
(B) In the field of Traditional Systems of Medicine and Homeopathy
(C) In the field of Export Credit and Investment Insurance
(D) In the field of renewable energy

Ans .  B

If you have any problem or doubt regarding Daily GK Current Affairs Questions for Competitive Exams, you can ask me in the comment section. To more practice for Current Affairs Questions, Visit next page.
Showing page 1 of 3
en
https://www.examsbook.com/daily-gk-current-affairs-questions-2019-august-08
3
1
daily-gk-current-affairs-questions-2019-august-08