General Awareness Questions and Answers for Competitive Exams
5a3c9ff45aada87a5a616ca0
595217d8febf4b764b059d3a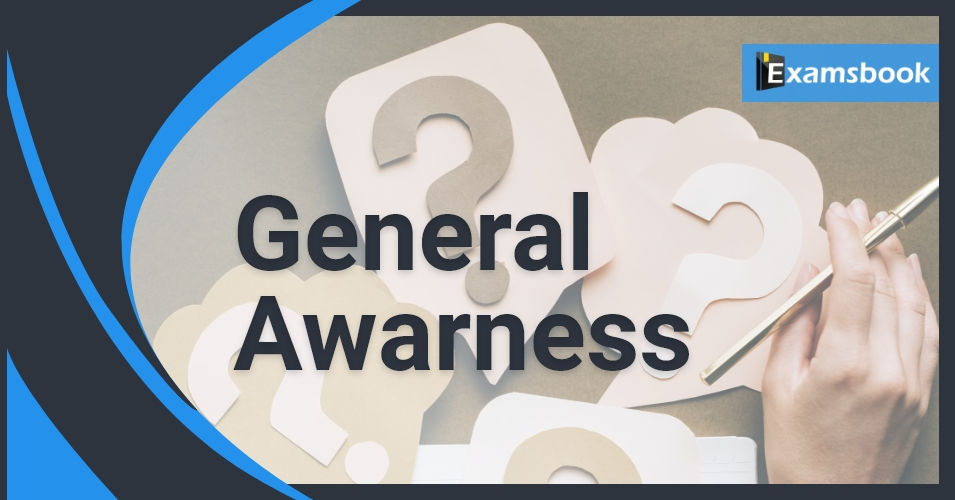 Various competitive exams are approaching, the first stage of the exam syllabus for which the General Awareness section is included in the CBT Test. If you want to crack the CBT exam, then it is necessary to practice General Awareness Questions continuously. So, here I have prepared General Awareness Questions for Competitive Exams with the help of which you can score full marks in General Awareness Questions and Answers for SSC, UPSC, IBPS, and other competitive exams.
General Awareness Questions
Also, students can increase their speed and confidence by solving all GK quizzes daily. Candidates can increase their performance level by attempting Test Series 2021for competitive exams like SSC, RSMSSB, IBPS PO, RRB (NTPC), etc.
Choose from general awareness topics to practice general awareness questions with answers:
 

General Awareness is important for bank exams so practice it with selective general awareness questions and answers. Here I listed general awareness questions for SSC and general awareness questions for 2020-21.
General Awareness Questions
Q :  

After how many years Palestine is ready to hold its first national election in the year 2021?
(A) 10 years
(B) 25 years
(C) 20 years
(D) 14 years

Correct Answer : D


Q :  

Recently which country successfully test-fired the supersonic cruise missile BrahMos?
(A) India
(B) Nepal
(C) Pakistan
(D) Bangladesh

Correct Answer : A


Q :  

When was the "National Vayoshri Yojana" launched?
(A) 1 April 2016
(B) 1 July 2016
(C) 1 July 2017
(D) 1st April 2017

Correct Answer : D


Q :  

Where has Nirav Modi, who cheated Punjab National Bank, been arrested?
(A) London
(B) Hungary
(C) Spain
(D) Portugal

Correct Answer : A


Q :  

The United Nations Security Council has imposed new comprehensive international sanctions on which country in March 2016?
(A) Pakistan
(B) China
(C) North Korea
(D) South Korea

Correct Answer : C


Q :  

The International Day for the Eradication of Poverty is observed on which of the following days?
(A) 10 January
(B) 12 March
(C) 15 April
(D) 17 October

Correct Answer : D


Q :  

'Dogri' language is spoken in which Indian territory?
(A) Puducherry
(B) Jammu and Kashmir Province
(C) Nagaland
(D) Andaman and Nicobar Islands

Correct Answer : B


Q :  

Which of the following organizations is a publication of 'World Development Report'?
(A) International Monetary Fund
(B) World Trade Organization
(C) World Bank
(D) UNCTAD

Correct Answer : C


Q :  

Where is the headquarters of the World Bank?
(A) Washington DC
(B) Geneva
(C) The Hague
(D) Paris

Correct Answer : A


Q :  

Recently, where was the 15 thousand square feet Rangoli made?
(A) Gujarat
(B) Mumbai
(C) Bangalore
(D) Trivandrum

Correct Answer : B


Showing page 1 of 19
en
https://www.examsbook.com/general-awareness-questions-and-answers-for-competitive-exams
19
1
general-awareness-questions-and-answers-for-competitive-exams