GK Current Affairs Questions 2019 June 16
5d072d686e5a461e94efbd71
595217d8febf4b764b059d3a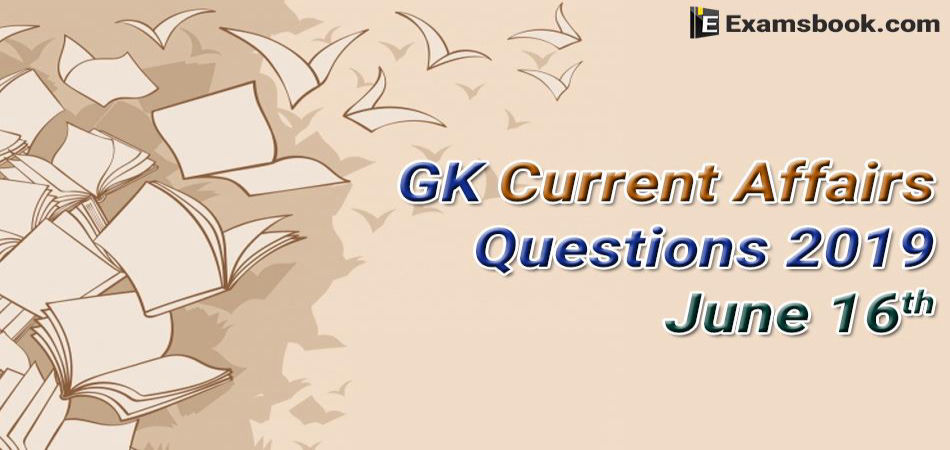 I have prepared GK Current Affairs Questions 2019 for competitive exam blog to increase your General Knowledge level as well as increase your confidence level for competitive exams.
Here, I am providing GK Current Affairs Questions 2019 (June 16) for those learners who are preparing for competitive exams. In this post, I have updated the most important questions answers around the Today GK with latest current affairs questions and answers about many topics covered.
GK Current Affairs Questions June 16
Q.1 India's fastest indigenous train "Train 18" was renamed as;
(A) Train 18 Express
(B) Vande Bharat Express
(C) Rajdhani 18 Express
(D) Train 18 Premium

Ans .  B

Q.2 Who among the following conferred with the Assam Republic Journalism Award?
(A) Swatantra Awaj
(B) D.N. Chakraborty
(C) Homen Borgohain
(D) Arnab Goswami

Ans .  B

Q.3 Where the Operation Olympics Commenced?
(A) Maharashtra
(B) Goa
(C) Kerala
(D) Punjab

Ans .  C

Q.4 Name of the union minister who inaugurated Atal Setu in Goa?
(A) Shri Piyush Goyal
(B) Shri Prakash Javedakar
(C) Shri Suresh Prabhu
(D) Shri Nitin Gadkari

Ans .  D

Q.5 Which ministry launched a mobile app 'RDP India 2019'?
(A) Ministry of Defence
(B) Ministry of Home Affairs
(C) Ministry of External Affairs
(D) Ministry of Finance

Ans .  A

Q.6 Which state launched the Voters Helpline Number - 1950 and mobile app for people with disabilities on the occasion of National Voters Day?
(A) Mizoram
(B) Meghalaya
(C) Uttar Pradesh
(D) Andra Pradesh

Ans .  A

Q.7 As per the report of CISCO, what is the position of India in General Data Protection Regulation (GDPR) Index?
(A) 8th
(B) 6th
(C) 12th
(D) 5th

Ans .  B

If you have any problem or doubt regarding Today GK Current Affairs Questions for Competitive Exams, you can ask me in the comment section. To more practice for Current Affairs Questions, Visit next page.
Showing page 1 of 3
en
https://www.examsbook.com/gk-current-affairs-questions-2019-june-16
3
1
gk-current-affairs-questions-2019-june-16