How to Crack SSC Exam 2023 in 90 Days?
6437b091a16c2dfa9ce4063b
5e5e0683e5ab73709fa28c7b
NEW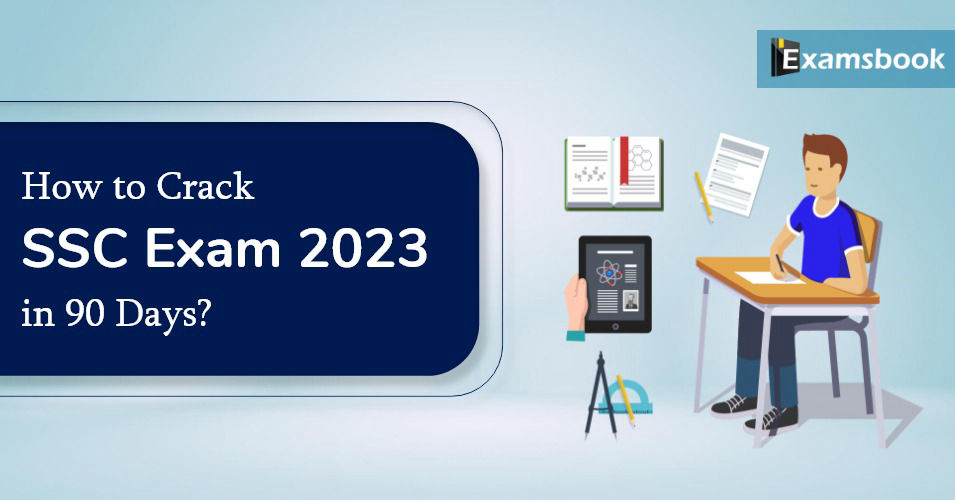 Do you desire to pass the upcoming SSC exam on your first trial? Undoubtedly, it's a complex task but manageable. 
In India, the SSC exam is very alluring. Every year, many candidates decide to sit for the SSC CGL, SSC CHSL, SSC MTS, SSC GD, and more. 
Cracking the SSC exam in 90 days is possible, but with dedication, hard work, and the right strategies, you can easily ace the exam. It is important to clearly understand the syllabus, practice regularly, and take mock tests to assess one's preparation.
In this article, I'm presenting 90 days study plan & tips for all SSC exams, So let's begin your exam preparation journey ↴
SSC Exam 3 Months Study Plan
Generally, SSC conducts computer-based written tests in the first round for all its exams like SSC CHSL, SSC CGL, SSC MTS, SSC Stenographer, SSC Constable, SSC CPO, and SSC JE. 
SSC exams cover a variety of subjects, including General Intelligence and Reasoning, General Awareness, Quantitative Aptitude, English Comprehension, and computer science.
Before understanding the proper monthly study plan, let us move toward some points subject-wise: 
For English -
Read a variety of newspapers and magazines to improve English comprehension and vocabulary.
Practice reading comprehension passages and attempt the questions.
Learn and practice grammar rules.
Try writing essays, letters, and articles. 
Attempt mock tests and evaluate the performance.
For Mathematics -
Start with essential mathematics topics such as Arithmetic and Algebra.
Practice solving fundamental problems and equations.
Work on geometry and trigonometry.
Focus on advanced topics such as Calculus, Number Theory, and Statistics; Practice solving problems using different methods.
Attempt previous year's question papers.
Take mock tests and practice sets.
For GK -
Revise the basics of history, geography, political science, and economics. 
Refresh your knowledge of world affairs and current events.
Familiarize yourself with the Indian Constitution and fundamental rights.
Read a daily newspaper and magazine regularly to stay updated with current affairs.
Pay special attention to editorials, opinion pieces, and analyses.
Regularly take mock tests for SSC CGL to understand your weak areas and practice accordingly. 
Solve previous year's question papers and analyze your performance.
Make notes while reading a newspaper or magazine, as it will help you remember the facts and figures better. 
For Reasoning -
Comprehend the types of questions asked in the exam - verbal, non-verbal, logical, etc.
Understand the different types of reasoning questions - analytical, critical, deduction, induction, etc.
Familiarize yourself with the diagrams used in reasoning questions - flow charts, Venn diagrams, etc.
Learn about different types of puzzles and their rules.
Make sure to practice different types of General Intelligence and Reasoning questions daily. 
Practice from previous year's question papers and mock tests to get an idea of the difficulty level of the questions.
It's important to develop speed and accuracy when solving problems. So, try solving questions with a timer.
Revise all the topics you have studied regularly; Go through the important and difficult ones.
Solve sample papers and mock tests regularly to stay updated about the exam pattern.
Here are some quick leads that will help you jump-start your preparation:
Month 1st -
Read NCERT textbooks for a thorough understanding of all the subjects & topics.
Solve sample questions from the book or online resources like Examsbook.
Take online mock exams to evaluate your preparation.
Make short notes for important topics to revise later.
Month 2nd -
Revise the topics that you studied in the first month.
Solve more sample questions and take more mock tests.
Focus more on the topics that you find difficult.
Practice more on the topics that you are confident about.
Month 3rd -
Revise all the topics that you have studied in the past two months.
Make sure to take more mock tests and practice sample questions.
Try to identify the topics that you are weak in and practice more on them.
Take a break on the day before the exam and relax.
Tips and Tricks to Crack SSC Exam 2023
If you wish to pass the SSC Exam on the first attempt, you should review the tips and strategies below; we confirm that these strategies will benefit you in the upcoming SSC 2023 examination.
Start Early: Start preparing for the SSC exam as early as possible. The earlier you start preparing, the better. It will give you get hold to the syllabus and enough time to go through all the topics, practice different types of questions, and understand the concepts in detail. 
Make a study plan: The first step to crack the SSC exam in 90 days is to make a detailed and effective study plan. This plan should include the topics you need to cover and the time you must devote to each topic. Decide how you will allocate your time to different subjects or how many days you will spend on each subject and stick to it.
Stay focused: It's essential to focus on cracking the SSC exam in 90 days. It means avoiding distractions and activities that can take away valuable time from your preparation.
Revise regularly: Revision helps to retain the concepts and to increase your confidence. Revising is essential to crack any SSC exam. For the SSC exam, it's important to revise the topics you've already studied and the topics you're currently studying.
Practice: Once you have a basic understanding, start doing practice questions. It will help you understand the question patterns and the type of questions asked in the exam and identify the areas of improvement. 
Take mock tests: Taking mock tests is another vital strategy to crack the SSC exam. It helps you to get familiar with the exam pattern, understand the marking scheme, and also helps you to understand your weak and strong points. 
Analyze your performance: After taking each mock test, analyze your performance and identify areas where you are weak and need improvement.
Learn shortcuts and tricks: Learning some tricks and shortcuts can help you save time and solve questions quickly.
Get Adequate Sleep: Don't overstress yourself. Make sure you get adequate sleep and take regular breaks during your studies. It will assist you to stay focused and refreshed.
Stay Positive: Believe in yourself and stay positive. It will help you stay motivated and focused on your studies.
Manage Your Time: Time management is the key to success in any exam. Allocate time for different topics and practice accordingly. 
Get Professional Help: Experts can help you clear your doubts and improve your performance. 
Share with your mats & All the Best!