How to Prepare for Competitive Exam without Coaching – Full Proof Method!
5b64557e93bf8eae1fa90f19
5a867731a9d1f08c66dbc8d8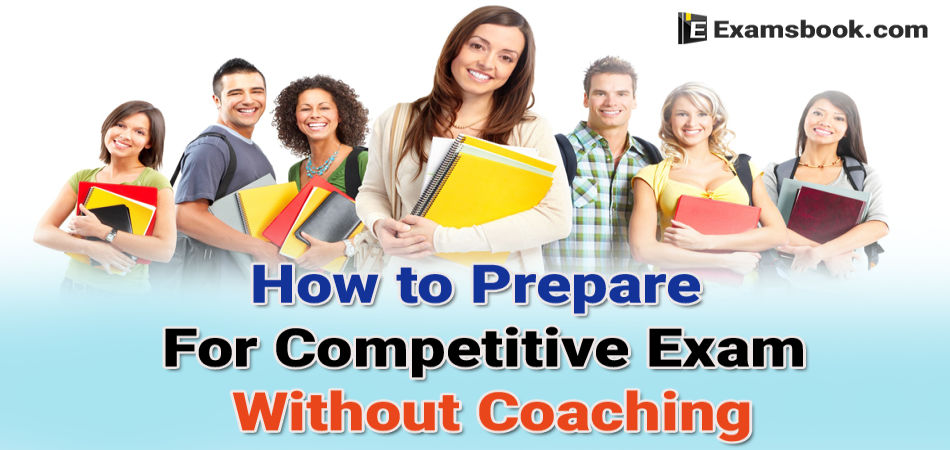 Most of the students join coaching classes for preparation of competitive exams but lots of students are not able to join coaching classes. This blog is about how to prepare for competitive exam without coaching.
The season of competitive examination is here and a lot of candidates will try their luck in all the banking and government examinations. However, it is not important to appear in the examinations but it is very much necessary that you are prepared for it.
The most common question among all the candidates while starting the preparation is – Should I take coaching or not? In this article, I will try to provide full proof methods to you with a detailed guide on how to prepare for competitive exam without coaching classes.
Yes, it is possible that you can ace competitive examinations without any coaching and with the help of self-study.
Methods to prepare for competitive exams without coaching: How to Ace the Preparation?
Coaching centers will provide you certain shortcut tricks and methods to clear any examination but it needs to be understood that nothing comes easy in this world and yes, there is actually nothing called a free lunch.
It is always about your self-study and self-confidence in these examinations since nobody can understand your strengths and weaknesses except you yourself. But it is not rocket science. It is all about understanding the syllabus and devising a strategy accordingly.
Most of the students want to finish their preparation fastly. They can finish, but for doing that they need to know how to prepare for the competitive exam in 2 months and need to make weekly study plan.
Let's now find out the way to success through self-study and determination to master the art of clearing any competitive examination.
Here are 15 methods for how to Prepare for Competitive Exam without Coaching.
1. Start with understanding the syllabus:
It is the first part of any exercise – understanding the whole of it. Any competitive examination has a defined syllabus along with the previous year papers to refer to for exam pattern and difficulty level. First go through the notification of any examination and then go through the past year papers so that you can get to know what you are getting into.
2. It is also important to understand yourself:

Well, it is not all to understand the syllabus but it is also important to understand yourself. Do your SWOT analysis first to understand what you are good at and what not. Now that you know the syllabus you need to find out the areas in which you are weak and in which you are strong.
3. Devise your daily routine:

If you are doing self-study, it is very important to have a fixed routine and more important is to follow it without fail. Make a proper routine and keep track of your preparation at all times.
4. Take mock tests as many as possible:
Taking mock tests is very important to get the hang of your level of preparation compared to your fellow contestants. It helps you prepare for the ultimate test.
5. Revision is very much necessary:
Revision of the most important cog in the wheel of your preparation. It is not possible for anybody to remember everything by studying only once. Multiple revisions will be effective for retention as well as application.
6. Fix weekly targets and achieve them:
You go to coaching since they take regular classes with defined syllabus so that all the relevant chapters are covered properly. If you are studying on your own, you need to have this in mind – fix yourself targets and achieve them. However, make sure that you have small and achievable targets.
I suggest you to make weekly targets and try to achieve them and calculate your success rate every week, make sure no need to worry if you are reaching 80-90% but try to make it 90+.
7. Never forget to be yourself:

It is very important to study when you feel comfortable. If you are an early bird, study in the morning and if you love burning midnight oil, just go ahead with it without paying much heed to others.
8. Focus on application of knowledge not on theory:

Please understand that competitive exams are a test of your application of knowledge and not theory. Read and understand so that you can apply properly. The application is a most important aspect of your preparation.
9. Determination to carry on:

You may face failures but it is very important to carry on despite them. You may fail once, twice but if you stick to it, you will definitely be able to succeed one day.
10. Do not force anything on yourself:

You may not be that comfortable using shortcut methods, so, just ditch them altogether. Use the normal formula and if you are comfortable using that, it will not take much of your time also.
11. Do not refer to multiple sources:

It is very important that you focus on quality rather than quantity. You should focus on going through one book more than once rather than referring to more than one book. Pick up a standard book and go through it multiple times. It will clarify the concept for you.
12. Make a Group for study:
It may be beneficial or harmful, given the way it is used. It may be boring preparing alone but with a group, it becomes easy. But make sure that all are equally serious about cracking the examination so that you don't end up wasting your time on worthless gossips.
13. Sleep Properly:
Be it during the preparation or before the examination, make sure that you are sleeping at least 7-8 hours a day. Without this, everything else will be of no use since you will not be able to concentrate properly resulting in poor retention of knowledge.
14. Be Positive for better results:

It is very important to remain positive all the time in order to achieve success. Prepare well and practice well. Do not overthink regarding the result. If you enjoy the preparation phase, cracking the examination will be a cakewalk for you.
15. De-stress yourself regularly:

Studying alone may be stressful and boring at times and if you are not able to crack even the prelims of any examination it becomes all the more stressful. Find ways to de-stress yourself on a regular basis so that you can relax. It will freshen you up and you will be able to retain things better.
The Bottom Line:
Competitive Examination is all about strategy and proper execution and nothing else. This can be best done if you are preparing on your own. Coaching centers will not be for you alone but in self-study, you will be able to understand yourself better and study accordingly.
Hence, do not run after coaching centers because of some tall claim but believe in yourself and go ahead with a proper plan. Success will beckon you. As well as you should know Habits of successful students to crack competitive exams.
I have successfully described how to Prepare for Competitive Exam without Coaching and these are very effective and full proof methods for success in competitive exams.
Let me know in the comment section what you follow or don't follow to get success in competitive exams.
Keep in touch with Examsbook.com for study material and questions of GK, Current affairs and notifications, Aptitude/Maths, Reasoning, Verbal abilities and Computer awareness.
All the Best for the exam!!