Indian History Questions | Indian History GK Questions and Answers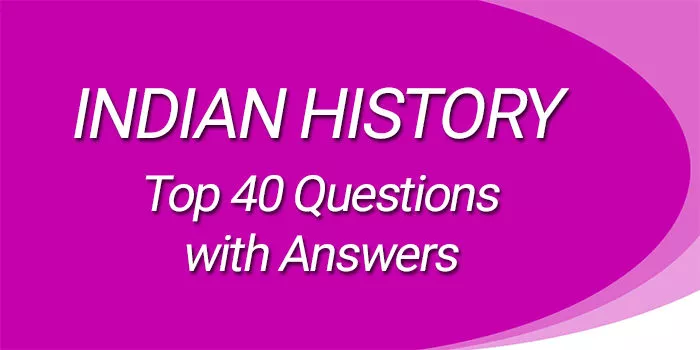 Here is the selective and important Indian History Question with answers on General Knowledge for all types of competitive exams. These Indian history GK questions have been asked in competitive exams and there are chances to ask again for competitive exams. So these Indian history GK questions are for your practice.
Here is also important Rajasthan GK Questions in English. It may be asked in competitive Exams.


INDIAN HISTORY
1) What was the capital of Aang Mahajanpada?
A. Champa
B. Vaishali
C. Pushkalavati
D. Koushambi


Ans . A


2) Who was the founder of Haryark Dynasty?
A. Shishupal
B. Bimbsar
C. Ajatashatru
D. Udiyan


Ans . B


3) Who was the first foreigner who invaded India/
A. Derious
B. Sikandar
C. Selyucus
D. Philip


Ans . A


4) What was the name of Goutam Buddha's mother?
A. Goutami
B. Mahamaya
C. Yashodhara
D. Chelna


Ans . C


5) Who fought the war of Jhelum?
A. Ameer and Sinndar
B. Porash and Sikandar
C. Yodhey and Sikandar
D. Ghananand and Sikandar


Ans . B


6) Gautam Buddh's leaving home is known as
A. Mahabhinishkraman
B. Dharmabhishek
C. Dharmchakra paravartan
D. Mahaparinirvana


Ans . A



7) What was the symbol of first Teerthankar Rishabhdeva ?
A. Elephant
B. Bull
C. Lion
D. Blue lotus


Ans . B


8) Where did Mahaveer Swami attain knowledge?
A. Koushambi
B. Nalanda
C. Jumbhikagram
D. Anantpuri


Ans . C


9) Who established Pattilputra ?
A. Bimbsar
B. Udiyan
C. Shishunag
D. Chandragupta


Ans . B


10) Which Mourya Ruler is also known as "Amitraghat"?
A. Chandragupta
B. Bindusar
C. Ashok
D. Dashrath


Ans . B