Latest and Important Current Affairs Questions January 30
5e329b0c8f07c156e0aa5b8b
595217d8febf4b764b059d3a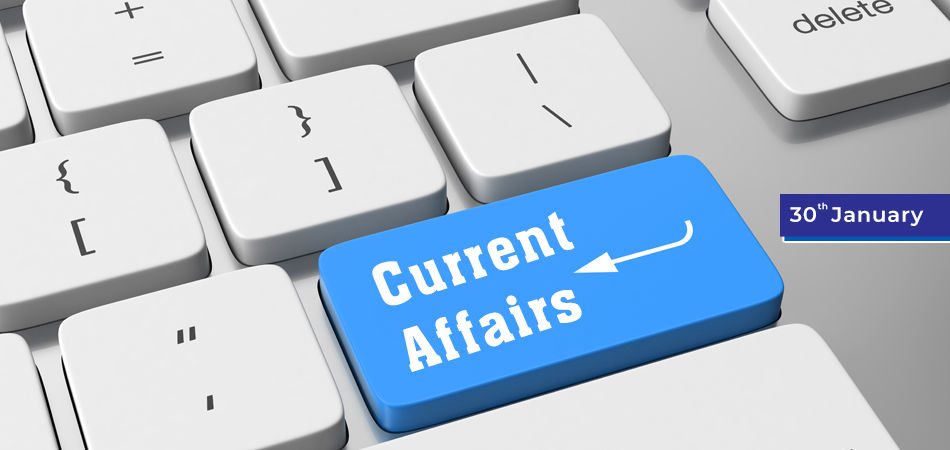 Here, I am providing the Latest and Important Current Affairs Questions (January 30th) for those learners who are preparing for competitive exams. In this post, I have updated the most important questions, answers around the Daily GK with the latest Current Affairs Questions about many topics covered.    
I have prepared the Latest and Important Current Affairs Questions to increase your General Knowledge level as well as increase your confidence level for competitive exams. 
To get previous day questions about current affairs to click on GK Current Affairs.     
If you are finding a platform for SSC exam preparation online, click on SSC CGL maths questions and start your preparation with SSC CGL Important Questions. Current Affairs Mock Test 2019 and Monthly Current Affair 
Current Affairs Questions 2020 
Q :  

Researchers discovered a new species of Allosaurus in which country?
(A) Canada
(B) USA
(C) Mexico
(D) Brazil

Correct Answer : B


Q :  

Which ministry has recently launched 'GATI' portal?
(A) Ministry of Labour and Employment
(B) Ministry of Road Transport and Highways
(C) Ministry of Rural Development
(D) Ministry of Housing and Urban Affairs

Correct Answer : D


Q :  

Which of the following has tied up with NIRDPR for communication resource unit?
(A) UNESCO
(B) IMF
(C) UNICEF
(D) UNDP

Correct Answer : C


Q :  

How many MoU have recently been signed between India and Brazil?
(A) 4
(B) 9
(C) 15
(D) 21

Correct Answer : C


Q :  

Kobe Bryant, who recently died was associated with which sport?
(A) Ice Hockey
(B) Baseball
(C) Football
(D) Basket Ball

Correct Answer : D


Q :  

Sher Singh Kukkal, who recently died at 86 was a famous person of which field?
(A) Sculptor
(B) Musician
(C) Biochemist
(D) Social Activist

Correct Answer : A


Q :  

Who recently awarded Police Medal for Gallantry for RPF, RPSF?
(A) Narendra Modi
(B) Sharad Arvind Bobde
(C) Amit Shah
(D) Ram Nath Kovind

Correct Answer : D


Q :  

India's First war memorial for animals will come up in which city?
(A) Chandigarh
(B) Sonipat
(C) New Delhi
(D) Meerut

Correct Answer : D


Q :  

What is the theme of International Day of Education 2020?
(A) Education: A Key Driver for Inclusion and Empowerment
(B) Families, education and well-being
(C) Learning for people, planet, prosperity, and peace
(D) Indigenous Peoples' Right to Education

Correct Answer : C


Q :  

The present Lok Sabha is the
(A) 14th Lok Sabha
(B) 15th Lok Sabha
(C) 16th Lok Sabha
(D) 17th Lok Sabha

Correct Answer : D


Showing page 1 of 3
en
https://www.examsbook.com/latest-and-important-current-affairs-questions-january-30
3
1
latest-and-important-current-affairs-questions-january-30