Rajasthan State Certificate Information Technology (RS-CIT) Practice Questions
621f48e230b5265430efe397
5b9f85cae4c9f1076ae7fdef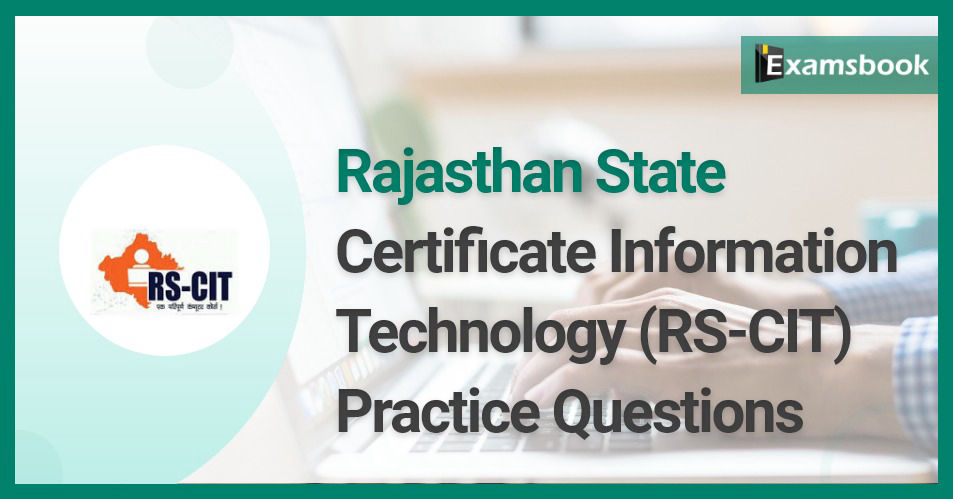 In almost all the fields whether private or government, RS-CIT course is important for all the students. Rajasthan State Certificate of Information Technology (RS-CIT) is a basic computer course that provides basic computer knowledge as well as computer systems, Internet, Microsoft Office, digital payments and cyber security. Also, this exam is organized every 3 months by the Government of Rajasthan.
Considering the importance of RS-CIT course, here we have prepared about 200 questions in this blog in both Hindi and English language for the candidate's practice. This question will give its basic side to get success of students in RKCL RS-CIT as well as in all competitive exams.
Questions Related Rajasthan State Certificate Information Technology (RS-CIT) 
Q :  

Which protocol provides e-mail facility between different hosts?
(A) FTP
(B) SNMP
(C) TELNET
(D) SMTP

Correct Answer : D


Q :  

MS-DOS/Windows commands and Unix/Linux commands are used to list directories/files available in the current directory or for information about a file.
(A) Rmdir, Mkdir
(B) Type, Car
(C) Is Dir
(D) none of the above

Correct Answer : A


Q :  

…… is a numerical scale that shows the data point value?
(A) Gridlines
(B) data point
(C) Title
(D) Value Axis

Correct Answer : D


Q :  

Microsoft Word has a method that monitors the changes you make to the document.
(A) Track Monitor
(B) Track Changes
(C) Trace Monitor
(D) none of the above

Correct Answer : B


Q :  

If you add a recipient email address to the box of an email message, a copy of the message is sent to that recipient, and the recipient's name is not visible to other recipients of the message.
(A) To
(B) Cc
(C) Bcc
(D) Subject

Correct Answer : C


Q :  

……….. using keyboard keys to permanently delete a file/folder, it will also not be available in the Recycle Bin?
(A) Ctrl + Shift
(B) Shift + Esc
(C) Ctrl + Alt
(D) none of the above

Correct Answer : D


Q :  

. ……………… is a personal information manager, mainly used in email applications, and also includes calendar, task manager, note taking, magazine, web browsing?
(A) MS Excel
(B) MS Paint
(C) MS Access
(D) MS Outlook

Correct Answer : D


Q :  

A small portion of the taskbar containing the icons of applications running in the background and displaying the date and time:
(A) Start Button
(B) Quick Launch
(C) Task Bar
(D) System

Correct Answer : D


Q :  

What is meant by configuration of your computer?
(A) Processor Specification
(B) Memory (RAM) Capacity
(C) Hard Disk (HDD) Drive
(D) all of the above

Correct Answer : D


Q :  

used to buy or sell something What category do websites fall into?
(A) Entertainment sites
(B) Social networking sites
(C) Search Engine
(D) E-commerce sites

Correct Answer : D


Showing page 1 of 18
en
https://www.examsbook.com/rajasthan-state-certificate-information-technology-rs-cit-practice-questions
18
1
rajasthan-state-certificate-information-technology-rs-cit-practice-questions