Today GK Current Affairs Questions March 26
5e7c975b83fe616110778918
595217d8febf4b764b059d3a
NEW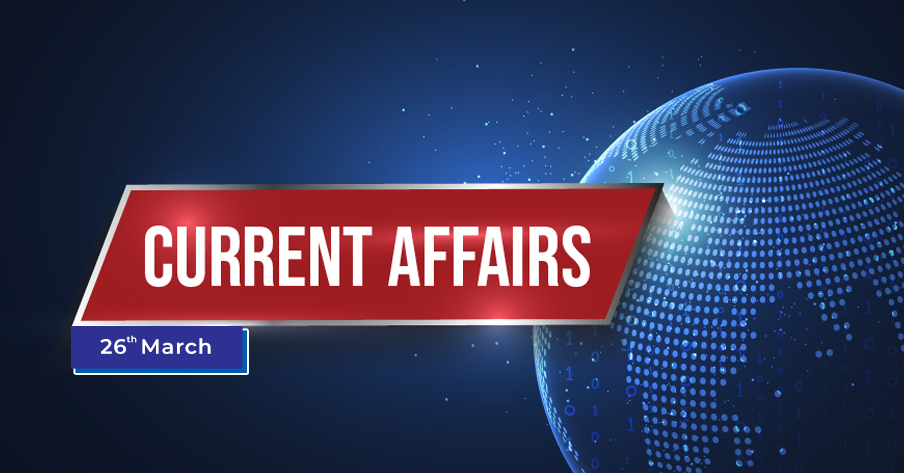 Here, I am providing the Today GK Current Affairs Questions 2020 (March 22th) for those learners who are preparing for competitive exams. In this post, I have updated the most important questions, answers around the Daily GK with the latest Current Affairs Questions about many topics covered.        
I have prepared the Today GK Current Affairs Questions 2020 to increase your General Knowledge level as well as increase your confidence level for competitive exams. 
To get previous day questions about current affairs to click on GK Current Affairs.      
If you are finding a platform for SSC exam preparation online, click on SSC CGL maths questions and start your preparation with SSC CGL Important Questions. Current Affairs Mock Test 2019 and Monthly Current Affair 
Current Affairs Questions 2020    
Q :  

The insurance regulator, IRDAI has set up a 16-member committee to find ways to improve its current guidelines on corporate governance systems of insurers, in a bid to further strengthen the guidelines. Who is the chairman of this committee?
(A) Anil Kumar
(B) Pravin Kutumbe
(C) N.K Singh
(D) K.P Singh

Correct Answer : B


Q :  

International Nowruz Day celebrated on which of the following dates?
(A) March 12
(B) March 21
(C) March 15
(D) March 5

Correct Answer : B


Q :  

Which state has announced to provide one-month free food grains to poor people along with Rs 1,000 as compensation to daily wage workers who have been affected due to the outbreak of the deadly virus?
(A) Madhya Pradesh
(B) Haryana
(C) Uttar Pradesh
(D) Himachal Pradesh

Correct Answer : C


Q :  

Credit ratings agency CRISIL has pulled down the growth forecast for India's GDP for the financial year 2020-21 by 50 basis points (bp) to how much percent?
(A) 5.5%
(B) 5.2%
(C) 5.9%
(D) 5.2%

Correct Answer : B


Q :  

What is the number of women matches officials across different International Cricket Council panels?
(A) 10
(B) 12
(C) 14
(D) 8

Correct Answer : B


Q :  

Reserve bank of India extended the regulatory restrictions on Punjab and Maharashtra Cooperative Bank (PMC) Bank by how much time?
(A) 6 Months
(B) 1 Year
(C) 1 Months
(D) 3 Months

Correct Answer : D


Q :  

Which of the following bank has teamed-up with Bharti AXA to launch a complimentary insurance plan which will cover all medical conditions, including Covid-19?
(A) UCO Bank
(B) SBI Bank
(C) BOB Bank
(D) DBS Bank India

Correct Answer : D


Showing page 1 of 3
en
https://www.examsbook.com/today-gk-current-affairs-questions-march-26
3
1
today-gk-current-affairs-questions-march-26