Top 20 GK Questions in English
5b850c3e4056139f380ad040
595217d8febf4b764b059d3a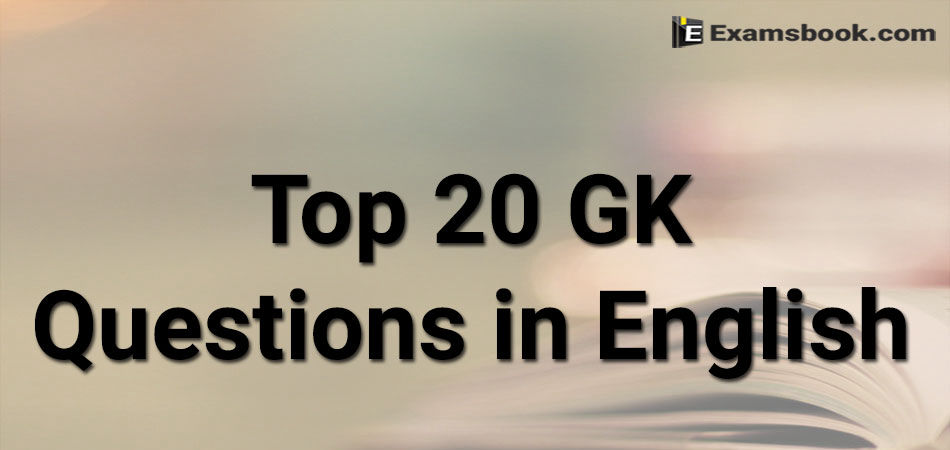 General Knowledge is the most important for competitive exams. That is the reason students search for important general knowledge questions and answers. So, here in this blog, you can read top 20 gk questions in English for your competitive exams. 
Keep practice these important and top 20 general knowledge questions in English without wasting your time which will help to obtain score high in competitive exams. You can start your practice by General Knowledge Test Series and Mock Tests as well as check your performance.  
Important GK Questions with Answers
Q.1 With which does the power to extend or restrict the jurisdiction of the High Court rest?
 (A) With the Parliament 
(B) With the Legislative
(C) With the Council of Minister
(D) With the Rajya Sabha

Ans . A 

Q.2 'Gobar gas' contains mainly which gas?
(A) Methane
(B) Hydrogen
(C) Oxygen
(D) Silicon

Ans . A 

3. Which is the biggest Public Sector undertaking in the country?
(A) Buses
(B) IT Sector
(C) Railways
(D) Banking Sector

Ans . C 

Q.4 Which rocks is transformed into marble?
(A) Limestone
(B) Black stone
(C) Red stone
(D) Grenite

Ans . A 

Q.5 Which 'Englishmen was fellow of Gandhiji in South Africa?
(A) John delton
(B) Washington
(C) Polak
(D) Trumph

Ans . C 

Q.6 By which number the quality of gasoline' sample is determined?
(A) By its octane number 
(B) Iodine Value
(C) Cetaine Number
(D) Mass density

Ans . A 

Q.7 Due to bite of mad dog the disease hydrophobia is caused by which virus?
(A) Dengue
(B) Chinkengunia 
(C) Rabies virus 
(D) Cancer

Ans . C 

Q.8 Who appoints the Chief Election Commissioner of India?
(A) Prime Minister
(B) Deputy Minister
(C) President 
(D) Chief Minister

Ans . C 

Q.9 What is the principal reason for the formation of metamorphic rocks?
(A) Extreme pressure ad heat
(B) Extreme heat and pressure
(C) Extreme heat
(D0 Extreme pressure

Ans . B 

Q.10 Who said "I therefore want freedom immediately, this very night, before dawn if it can be had"?
(A) Mahatma Gandhi
(B) Jawahar Lal Nehru
(C) Ravindra Nath Tagore
(D)  Bal Gangadhar Tilak

Ans . A 

Visit on next page for more practice of top gk questions in English. You can ask me anything in the comment box related top 20 gk questions in English if you face any problems.
Showing page 1 of 4
en
https://www.examsbook.com/top-20-gk-questions-in-english
4
1
top-20-gk-questions-in-english