Top 40 GK Questions in English for SSC Exam
5cf6147e7248d44f11440d2e
595217d8febf4b764b059d3a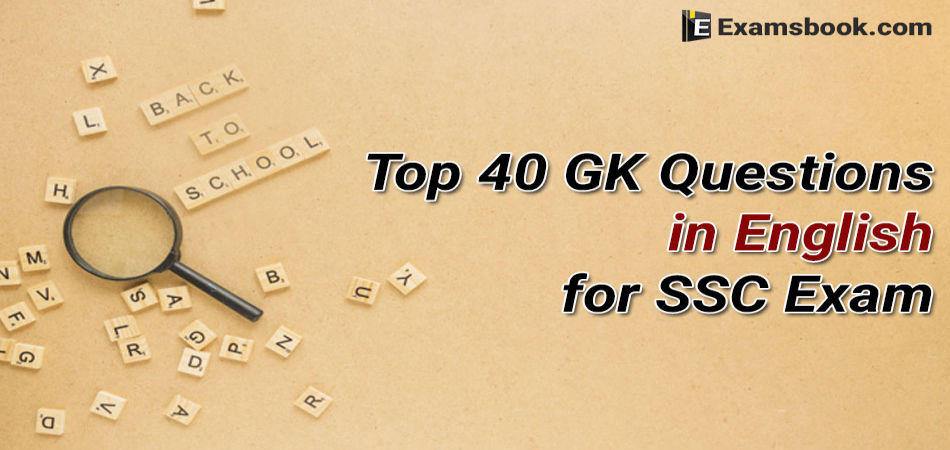 General Knowledge is a very important chapter in the competitive exams. We study the GK Questions for Competitive Exams. In GK questions, a student has to understand the relation to solve a question. These types of questions are not much difficult, it's just confusing questions.
In this section, I am providing Top 40 GK Question in English, by visit here, you can read GK Questions in English for your better performance in competitive exams.
Top 40 GK Questions in English for SSC Exams
Q.1 Which country launches the world's first fully-fledged 5G mobile networks?
(A) India
(B) Japan
(C) South Korea
(D) China

Ans . C

Q.2 What is the Current account deficit (CAD) of India in the 3rd quarter of the year 2019?
(A) 2.1% of GDP
(B) 2.3% of GDP
(C) 2.5% of GDP
(D) 2.9% of GDP

Ans . C

Q.3 Name the Non-banking finance company withdrew a release which has issued earlier regarding securing Rs 695 crore debt funding from NABARD.
(A) Muthoot Finance Ltd
(B) Mahindra & Mahindra Financial Services Limited
(C) Manappuram Finance
(D) Bajaj Finance Limited

Ans . C

Q.4 Which Island was notified as Island Protection Zone (IPZ) 2019 by Union Ministry of Environment, Forest and Climate Change recently?
(A) World Island
(B) Kurumgad Island
(C) Khanderi Island
(D) Andaman and Nicobar Island

Ans . D

Q.5 According to Asian Development Outlook report, India's Growth Rate in 2019 is __________.
(A) 7.2 %
(B) 7.4 %
(C) 7.5 %
(D) 6.9 %

Ans . A

Q.6 Who won the ETPrime 'Global Indian Woman of the Year'?
(A) Indra Nooyi
(B) Kiran Mazumdar-Shaw
(C) Anu Aga
(D) Meera Sanyal

Ans . A

Q.7 What is the theme of the 13th edition of Earth Hour 2019?
(A) Connect2Earth
(B) Save Earth
(C) NatureCallingYou
(D) GiveBack

Ans . A

Q.8 Name of the noted economist who passed away recently.
(A) Jayati Ghosh
(B) Viharidas Gopaldas Patel
(C) Jagdish Bhagwati
(D) Abhijit Banerjee

Ans . B

If you have any problem or doubt regarding Top 40 GK Questions in English for Competitive Exams, you can ask me in the comment section. To more practice for GK Questions, Visit the next page.
Showing page 1 of 5
en
https://www.examsbook.com/top-40-gk-questions-in-english-for-ssc-exam
5
1
top-40-gk-questions-in-english-for-ssc-exam