Word Analogy Questions and Answers for SSC and Bank Exams
58f51ee78f57a10c7572ca8c
58873e50dd4df72728284be5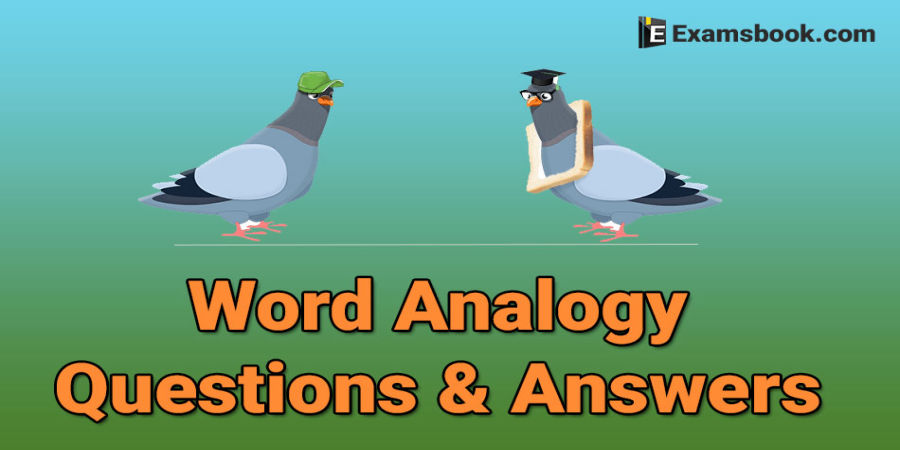 Word Analogy Questions asked in many competitive exams and Word Analogy Questions are also important for SSC and Banking exams. Here you can practice with Word Analogy Questions and Answers for the better score in the competitive exam.
Prepare verbal reasoning through selective and important Word Analogy Questions and increase your performance level.
To know Quiz of Verbal Reasoning Analogy Questions and Answers for all competitive Exams and Try out these Number analogy related Verbal Reasoning questions for bank exams.
You can read also: Word Analogy Test Questions with Answers
Word Analogy Questions and Answers related Verbal Reasoning
Q.1. Boat : Ore : : Bicycle : ?
A. Seat
B. Brake
C. Road
D. Pedal

Q.2. Mountain : Hill : : Tree : ?
A. Leaf
B. Forest
C. Ground
D. Shrub
Q.3. Car : Garage : : Aeroplane : ?
A. Hangar
B. Depot
C. Port
D. Harbour
Q.4. Monday : Saturday : : Thursday : ?
A. Sunday
B. Tuesday
C. Friday
D. Wednesday
Q.5. Push :Pull : : Throw : ?
A. Pick
B. Jump
C. Collect
D. Game
Q.6. Book : Publisher : : Film : ?
A. Producer
B. Director
C. Editor
D. Writer
Q.7. Plant : Tree : : Girl : ?
A. Wife
B. Mother
C. Woman
D. Sister

Q.8. Calf : Cow : : Puppy :?
A. Dog
B. Bitch
C. Horse
D. Donkey
Q.9. Man : Machine : : Master : ?
A. Worker
B. Manager
C. House
D. Slave
Q.10. Flower : Bud : : Plant : ?
A. Taste
B. Seed
C. Flower
D. Twig
If you like the post please give the rating, share to your friends by clicking share button and comment below if you face any problem in solving word analogy questions. Visit next page for more Word Analogy Questions and answers.
<!
Showing page 1 of 9
en
https://www.examsbook.com/word-analogy-questions-and-answers-for-ssc
9
1
word-analogy-questions-and-answers-for-ssc