Blood Relations Reasoning Questions and Answers for Competitive Exams
58f51ee78f57a10c7572ca4f
58873e50dd4df72728284be5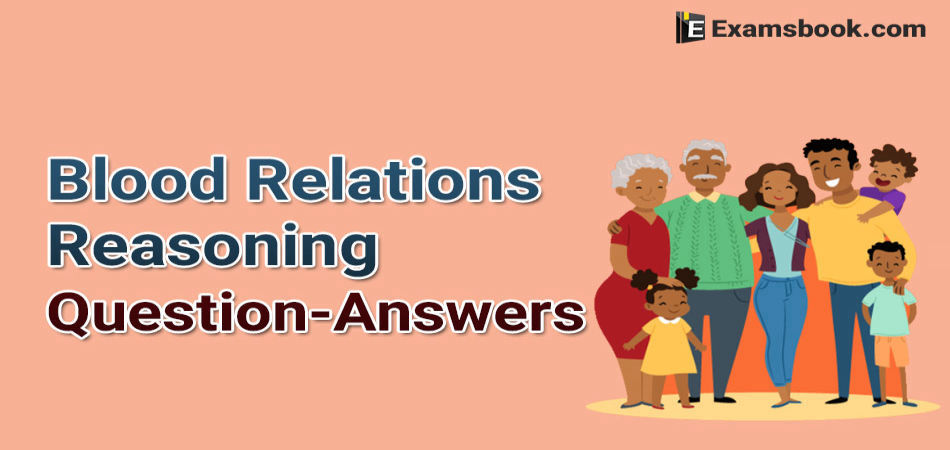 Blood relations reasoning questions of verbal reasoning are important and these questions frequently asked in competitive exams. So here I am sharing blood relations verbal reasoning Questions and Answers for all Exams which are important for CAT,MAT,XAT,GRE,GMAT,MBA,MCA,Bank Exams,Bank PO,SBI,Gate,Nda,Ssc.
Let's practice important blood relations reasoning questions with answers. Blood relation questions in Hindi are very useful for those who appeared in Hindi medium for bank PO and SSC CGL exams.
 by visit here.
Blood Relations Questions and Answers
1. A man pointing to a photograph says, "The lady in the photograph is my nephew's maternal grandmother." How is the lady in the photograph related to the man's sister who has no other sister?
A. Mother
B. Cousin
C. Mother–in–law
D. Sister–in–law
2. A woman introduces a man as the son of the brother of her mother. How is the man related to the woman?
A. Son
B. Nephew
C. Grandson
D. Uncle
3. Prasanna said, "This girl is the wife of the grandson of my mother." Who is Prasanna to the girl?
A. Husband
B. Father
C. Father–in–law
D. Grandfather
4. If Arun says, "Vimal' mother is the only daughter of my mother", how is Arum related to Ravi?
A. Father
B. Brother
C. Grandfather
D. None of these
5. Pointing to a man in a photograph. Asha said. "His mothers only daughter is my mother". How is Asha related to that man?
A. Wife
B. Sister
C. Niece
D. Nephew
6. A woman going with a boy is asked by another woman about the relationship between them. The women replied, "My maternal uncle and the uncle of his maternal uncle is the same." How is the lady related with that boy?
A. Mother and Son
B. Aunt and Nephew
C. Grandmother and Grandson
D. None of these
7. A man said to a lady, "Your mother?s husband?s sister is my aunt." How is the lady related to the man?
A. Grand daughter
B. Mother
C. Daughter
D. Sister
8. If X is the brother of the son of Y?s son, how is X related to Y?
A. Son
B. Cousin
C. Grandson
D. Brother
If you like the post please give rating and comment below. Visit on next page for more practice.
Showing page 1 of 5
en
https://www.examsbook.com/blood-relations-reasoning-questions-answers
5
1
blood-relations-reasoning-questions-answers