Easy and Important Current Affairs Questions 2020 - April 23
5ea165e394010016f58f1bfa
595217d8febf4b764b059d3a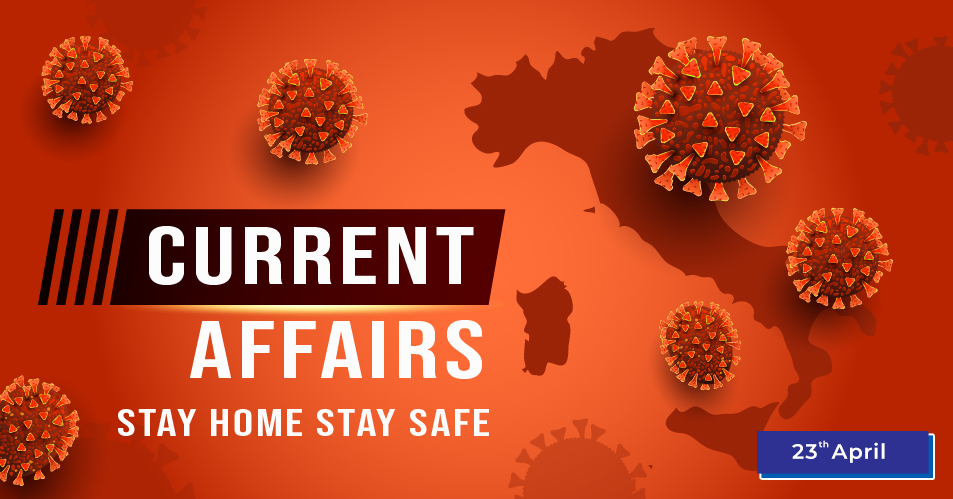 Here, I am providing the Easy and Important Current Affairs Questions 2020 (April 23rd) for those learners who are preparing for competitive exams. In this post, I have updated the most important questions, answers around the Daily GK with the latest Current Affairs Questions about many topics covered.        
I have prepared the Easy and Important Current Affairs Questions 2020 to increase your General Knowledge level as well as increase your confidence level for competitive exams. 
To visit for previous blog, click here Current GK Questions.
If you are finding a platform for SSC exam preparation online, click on SSC CGL maths questions and start your preparation with SSC CGL Important Questions. Current Affairs Mock Test 2019 and Monthly Current Affair 
Current Affairs Questions 2020         
Q :  

Recently some researchers of which country have succeeded in developing a 'compact solid state sensor' for identification of heavy metal ions present in water?
(A) Nepal
(B) China
(C) Bangladesh
(D) India

Correct Answer : C


Q :  

Which company announced the acquisition of the UK's most iconic sporting motorcycle Norton for £16 million, by acquiring certain assets of Norton Motorcycles?
(A) Tata Motors Limited
(B) Maruti Suzuki India Limited
(C) TVS Motor Company
(D) Ashok Leyland

Correct Answer : C


Q :  

NASA astronauts Andrew Morgan return to earth from the International Space Station after how many days in space?
(A) 572
(B) 472
(C) 372
(D) 272

Correct Answer : D


Q :  

Indian Council of Medical Research recently issued an advisory mentioning the protocol for using Rapid Antibody Test kits in COVID-19 hotspot areas across states to use these kits in the affected areas. Who is Secretary & Director General of ICMR?
(A) Balram Bhargava
(B) Ashok Agarwal
(C) Ajai Kumar
(D) Ashish Arora

Correct Answer : A


Q :  

Agriculture Ministry launched which Mobile App to facilitate transportation of food grains?
(A) Food Help
(B) Food Help
(C) Kisan Help
(D) Food Rath

Correct Answer : B


Q :  

To what date has the Central Government extended the normal and e-visa period of all foreign nationals stranded in India due to the corona virus (Kovid-19) lockdown?
(A) 03 May
(B) 03 June
(C) 30 April
(D) 15 May

Correct Answer : A


Q :  

Recently which state government has cut the tenure of 'State Election Commissioner' through an ordinance?
(A) Punjab
(B) Jharkhand
(C) Andra Pradesh
(D) Bihar

Correct Answer : C


Showing page 1 of 3
en
https://www.examsbook.com/easy-and-important-current-affairs-questions-2020-april-23
3
1
easy-and-important-current-affairs-questions-2020-april-23