Easy and Important Current Affairs Questions March 27
5e7dceb616111a61096cf5f1
595217d8febf4b764b059d3a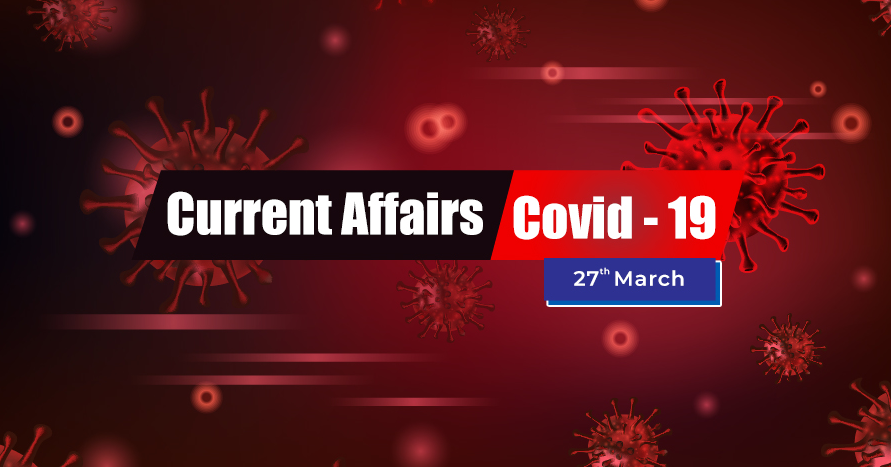 I have prepared the Easy and Important Current Affairs Questions 2020 to increase your General Knowledge level as well as increase your confidence level for competitive exams. 
Here, I am providing the Easy and Important Current Affairs Questions (March 27th) for those learners who are preparing for competitive exams. In this post, I have updated the most important questions, answers around the Daily GK with the latest Current Affairs Questions about many topics covered. 
To get previous day questions about current affairs to click on GK Current Affairs.
Students can easily get free general knowledge questions on this platform for online exam practice  to obtain good marks in the competitive exams. Current Affairs Mock Test 2019 and Monthly Current Affair.
Current Affairs Questions 2020   
Q :  

Meenakshisundaram Ramasamy Viswanathan, who recently passed away, was a famous personality of which field?
(A) Director
(B) Actor
(C) Singer
(D) Politician

Correct Answer : A


Q :  

Gahirmatha marine sanctuary recently seen in news is in which state?
(A) Bihar
(B) Odisha
(C) West Bnegal
(D) Gujarat

Correct Answer : B


Q :  

Which organization has launched a website for information related to the COVID-19 pandemic?
(A) SAARC
(B) UNCTAD
(C) World Bank
(D) United Nations

Correct Answer : A


Q :  

India and France, for the first time, have conducted joint patrols from the Reunion Island. The island is in which ocean?
(A) Atlantic Ocean
(B) Pacific Ocean
(C) Indian Ocean
(D) Antarctic Ocean

Correct Answer : C


Q :  

Country's 1st summit on Artificial Intelligence (AI), 'RAISE 2020- Responsible Artificial intelligence (AI) for Social Empowerment' has been postponed to which month?
(A) September
(B) August
(C) July
(D) October

Correct Answer : D


Q :  

Recently, an extradition treaty has been signed between India and which country?
(A) UAE
(B) Belgium
(C) Brazil
(D) Mauritius

Correct Answer : B


Q :  

Flying car-maker PAL-V (Personal Air Land Vehicle) of the Netherlands will set up a manufacturing plant in which Indian state?
(A) Telangana
(B) Tamilnadu
(C) Gujarat
(D) Bihar

Correct Answer : C


Showing page 1 of 3
en
https://www.examsbook.com/easy-and-important-current-affairs-questions-march-27
3
1
easy-and-important-current-affairs-questions-march-27