Indian Art and Culture GK - Important Questions on Indian Cultural
5ae2f4a93d17308cae4729b8
595217d8febf4b764b059d3a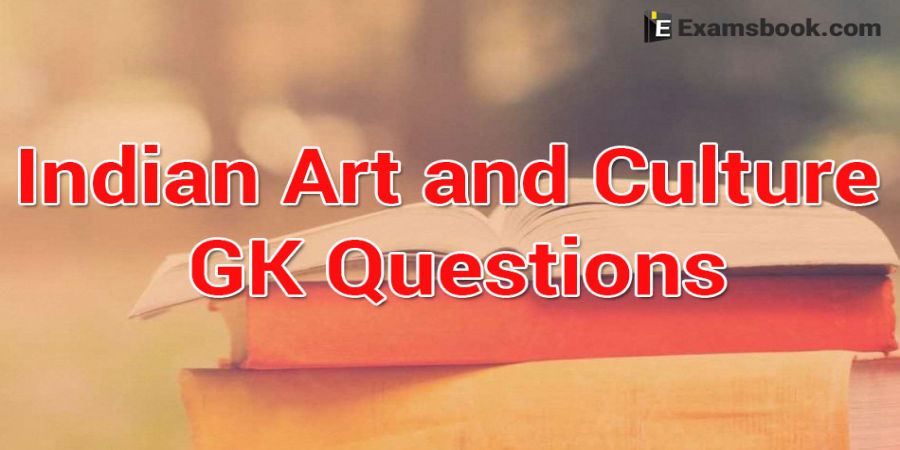 Today I am providing Indian cultural Questions and Answers for Competitive Exams. You can easily get 2-3 marks with the help of Indian Cultural GK Questions and answers for Competitive Exams. This post of Indian Cultural Questions are very important also related to Current GK Questions and Answers. ,



Here's a blog of Indian Cultural Questions and Answers for Competitive Exams. As you know Indian Cultural General Knowledge questions are the very useful topic for Competitive and Bank Exams as like Current GK Questions.
Important GK Questions on Indian Cultural
1. The Sangai Festival is celebrated in __:
[A] Assam
[B] Manipur
[C] Mizoram
[D] Nagaland

Ans . B

2. The temples constructed at Khajuraho are:
1. Jain temples
2. Vaishnavite Temples
3. Saivite Temples
Choose the correct option from the codes given below
[A] Only 1 & 3
[B] Only 2 & 3
[C] 1, 2 & 3
[D] Only 1 & 2

Ans . C

3. The famous 'Hornbill festival' is celebrated in which of the following States of India?
[A] Nagaland
[B] Mizoram
[C] Assam
[D] Meghalaya

Ans . A

4. Which of the following statements about the Gandhara School of Art is NOT correct?
[A] It displays Greek artistic influence and the concept of the "man-god" was essentially inspired by Greek mythological culture.
[B] Gandhara School of art enjoyed the liberal patronage of Indo-Greek rulers.
[C] Artistically, the Gandhara school of sculpture is said to have contributed wavy hair, drapery covering both shoulders, shoes and sandals etc.
[D] The Gandhara art primarily depicted the Buddhist themes.

Ans . B

5. Gundecha brothers are well known exponents of which among the following styles of Hindustani Classical Music ?
[A] Khayal
[B] Tharana
[C] Dhrupad
[D] Thumri

Ans . C

6. In which of the following city Elephant festival is celebrated annually?
[A] Jaipur
[B] Jodhpur
[C] Kota
[D] Ajmer

Ans . A

7. 'Me-Dam-Me-Phi' festival is a festival of which the communities in North Eastern India?
[A] Tai-Ahom
[B] Deori Tribe
[C] Garo
[D] Khasi

Ans . A

8. Today's Gurmukhi, Dogri and Sindhi scripts have developed from which among the following scripts?
[A] Brahmi Script
[B] Śāradā script
[C] Tankari Script
[D] Kushana Script

Ans . B

9. Ezhuthachan Puraskaram is the highest literary award of which among the following Governments? [A] Kerala
[B] Tamil nadu
[C] Karnataka
[D] Andhra Pradesh

Ans . A

10. Which state Government confers the Basavashree award?
[A] Gujarat
[B] Maharashtra
[C] Andhra Pradesh
[D] Karnataka

Ans . D

<!
Showing page 1 of 4
en
https://www.examsbook.com/indian-art-and-Culture-important-questions-on-indian-cultural-gk
4
1
indian-art-and-Culture-important-questions-on-indian-cultural-gk