SSC CHSL Notification 2017 -18 Tier 1 and Tier 2 Exam Date
5ace0581c71df90378de15f3
5a673ccd63b436e8b899e064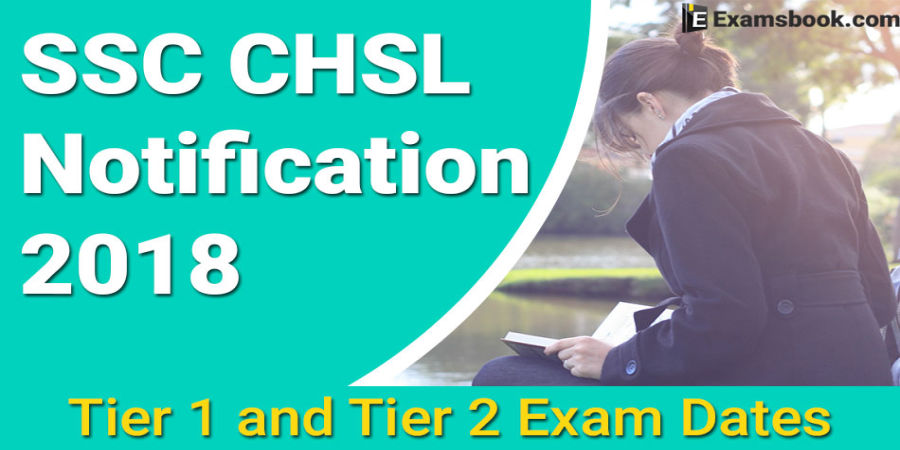 Hello students,
SSC CHSL exam is Known as combined higher secondary Level. The candidates are having an education of higher secondary (10+2) level and planning for a government job then SSC CHSL is a good option for them.
Every year SSC CHSL conducted by the Staff Selection Commission to select candidates for various posts such as LDC (Lower division clerk), DEO (Data entry operator), Postal Assistant/Sorting Assistant, Court clerk.
As per the updated SSC CHSL notification 2018, SSC is soon going to conduct examination for the above-mentioned posts.
At present in India millions of students appears in the SSC CHSL exams for getting government jobs. So, let's have a complete chart for SSC CHSL exam date to be held in this year 2018.
So, I am sharing important information about SSC CHSL Exam dates and notifications in this article.
SSC CHSL Notifications Tier 1 & Tier 2 for 2017-18: Latest News to Check
Last year, the SSC CHSL exam online form 2017 started on 18 November to 18 December 2017.
The exam started from 04 March 2018 to 28 March 2018. SSC CHSL Tier 1 exams conducted at 442 exam centers in 101 cities across India.
63,49,545 candidates were filled the application form in this examination, out of which 26,51,962 candidates appeared in the exam. SSC CHSL tier 1 result declaration will be notified later on the official website.
This examination was conducted successfully without any major incident under strict monitoring and detailed security arrangements.
SSC CGL tier 2 exam will be conducted on 08 July 2018.
SSC CHSL has released dates of upcoming exams 2018. The details are given in below points.
1) SSC CHSL tier 1 online form will start on 03 Nov 2018 to 30 November 2018.
2) SSC CHSL tier 1 admit card will be released 1st week before the exam.
3) SSC CHSL tier 2 Exam will expect in March 2019.
4) SSC CHSL tier 2 admit card will be released 1st week before the exam.
SSC CHSL EXAM DATE Calendar 2018:
Every year so many students want to build their future with SSC. It is good news for you SSC has released the official SSC CHSL Exam Date calendar 2018, SSC CHSL application form will be available from 03 Nov 2018.
I am letting you know about SSC CGL exam dates for tier 1, & tier 2 according to SSC CGL notification Calendar 2018.
Note down these important SSC CHSL exam dates given below and make sure to complete the online application process on time.
SSC CHSL tier 3 exam 2018 comprises couple of skill tests which are required for certain government posts.
As per the SSC Calendar 2018-19 released recently, the dates for online application for SSC CHSL 2018 exam have been rolled out.
Candidates can apply online from 3rd November 2018 who going to appear for SSC CHSL 2018 exam.
| | | |
| --- | --- | --- |
| S. No. | SSC CHSL Activity | Dates |
| 1 | Application form will be available from | 03 November 2018 |
| 2 | Last date for registration | 30 November 2018 |
| 3 | SSC CHSL Tier-1 Exam | To be notified later (CBE) |
| 4 | SSC CHSL Tier-2 Exam | To be notified later (DES) |
SSC CGL vacancies and job posts:
Last year in 2016-17 approximately 30 lakh Candidates appeared in SSC CHSL exam for various Vacancies. Only 1.7% participant got qualify for SSC CHSL percent qualify for descriptive test.
The expected total tentative vacancies for SSC CHSL 2018-19 exam is 3271 included Postal Assistant or Sorting Assistant (PA/SA), Lower Divisional Clerk or Junior Secretarial Assistant (LDC/JSA) and Data Entry Operator (DEO) posts.
These CHSL vacancies are tentative and declared by different Govt. departments and organizations.
Conclusion:
I have described SSC CHSL notifications, exam dates, vacancies and posts in this article which plays important role in your SSC CHSL exam preparation. With these topics SSC CHSL Exam pattern also you should know.
For more SSC CHSL update in future, Keep in touch with ExamsBook.com.
I hope you found this post helpful & useful, don't forget to share with your friends who are looking for SSC CGL exam notification 2018.
If you have any query or confusion related to SSC CHSL exam date 2018, ask me in the comment box.
Thanks, and all the best for exam!