Today GK Current Affairs Questions June 20
5d0b33114c45252c0812360e
595217d8febf4b764b059d3a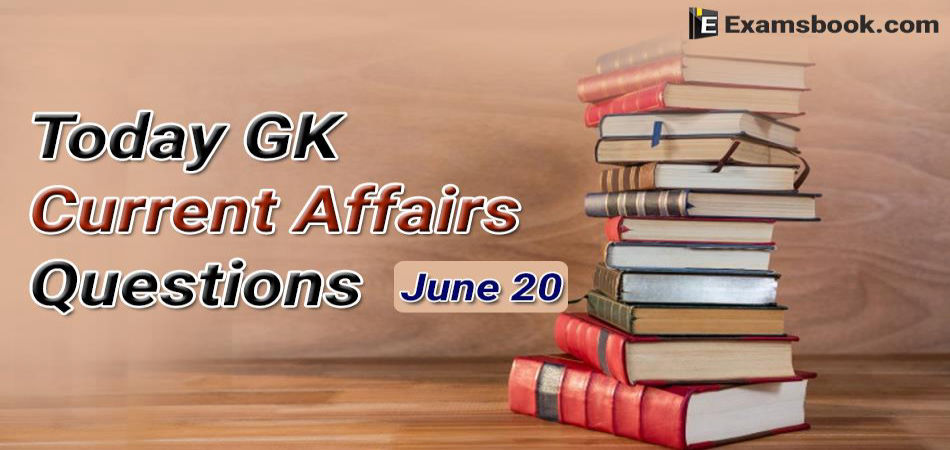 I have prepared Daily Current Affairs Questions 2019 for competitive exam blog to increase your General Knowledge level as well as increase your confidence level for competitive exams.
Here, I am providing Daily Current Affairs Questions 2019 (June 20) for those learners who are preparing for competitive exams. In this post, I have updated the most important questions answers around the Daily GK with latest current affairs questions and answers about many topics covered.
Daily Current Affairs Questions June 20
Q.1 Who was appointed as the CEO of e-Foreigner Tribunal (e-FT) mission in Assam?
(A) Sanjay Mehrotra
(B) Anand Prakash Tiwari
(C) Rajeev Suri
(D) Sanjay Jha

Ans .  B

Q.2 Who among the following has been conferred with Kyrgyzstan's Highest National Award?
(A) Xi Jinping
(B) Emomali Rahmon
(C) Vladimir Putin
(D) Narendra Modi

Ans .  A

Q.3 Which of the following bank is now under the purview of RTI Act and CVC guidelines?
(A) Jammu & Kashmir Bank
(B) Punjab National Bank
(C) Syndicate Bank
(D) Karnataka Bank

Ans .  A

Q.4 Suman Rao won Femina Miss India World 2019 Title. She hails from which Indian state?
(A) Odisha
(B) Andra Pradesh
(C) Rajasthan
(D) Maharashtra

Ans .  C

Q.5 Which country topped in the FIFA World Rankings?
(A) England
(B) Belgium
(C) Spain
(D) Denmark

Ans .  B

Q.6 The government of which country has banned commercials that reinforce gender prejudices.
(A) France
(B) Germany
(C) UK
(D) Canada

Ans .  C

Q.7 World Day to Combat Desertification and Drought was observed on __________.
(A) June 16
(B) June 17
(C) June 18
(D) June 19

Ans .  B

If you have any problem or doubt regarding Daily GK Current Affairs Questions for Competitive Exams, you can ask me in the comment section. To more practice for Current Affairs Questions, Visit next page.
Showing page 1 of 3
en
https://www.examsbook.com/today-gk-current-affairs-questions-june-20
3
1
today-gk-current-affairs-questions-june-20