GK Questions - Basic General Knowledge Questions and Answers
58f51ef78f57a10c7572cabd
58873e50dd4df72728284be5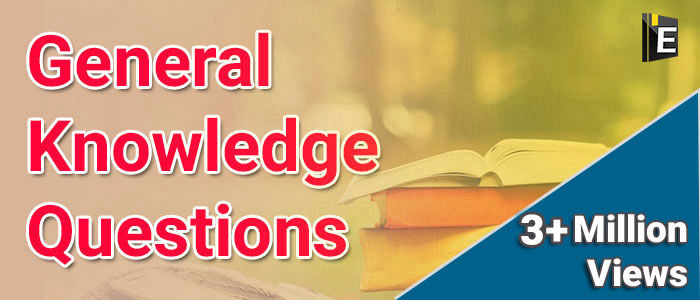 These questions are useful for any competitive exam like IAS, bank PO, SSC CGL, RAS, CDS, UPSC exams and all state related exams.
Selective Basic General Knowledge Questions and Answers


41. The highest peak in South India is
A. Dhottabetta
B. Nandadevi
C. Anaimudi
D. Mt. Abu

Ans .C

42. The country without income tax is
A. Nepal
B. Kuwait
C. Burma
D. Singapore

Ans .B

43. Sea route to India was discovered by
A. Columbus
B. Amundsen
C. Vasco–da–Gama
D. William Bentinck

Ans .C

44. The first and the last Indian Governor General of India was
A. W.C. Banerjee
B. Lord Mountbatten
C. Dr. Rajendra Prasad
D. Rajagopalachari C.

Ans .D

45. In the Battle of Wand wash, the English defeated
A. The Dutch
B. The French
C. The Portuguese
D. None of these

Ans .B

46. Which one of the following is the softest?
A. Sodium
B. Aluminum
C. Calcium
D. Lithium…

Ans .A

47. Which one of the following is an element?
A. Topaz
B. Diamond
C. Ruby
D. Sapphire

Ans .B


48. In which state is Jog falls located
A. Maharashtra
B. Karnataka
C. Tamilnadu
D. Kerala

Ans .B

49. Which one of the following hydroelectric projects does not belong to Tamil Nadu?
A. Idukki
B. Aliyar
C. Periyar
D. Kundan

Ans .A

50. Which state is not one of major producers of Bananas?
A. Gujarat
B. Tamil Nadu
C. Bihar
D. Kerala

Ans .C

Feel free and ask me in the comment section if you have doubt or problem regarding general knowledge questions. Visit on the next page for more practice or read questions.
Showing page 5 of 50
en
https://www.examsbook.com/basic-gk-general-knowledge-questions-answers/5
50
5
basic-gk-general-knowledge-questions-answers