Indian Constitution Questions and Answers for Competitive Exams
5a5c73ed29e57ec22b18800b
595217d8febf4b764b059d3a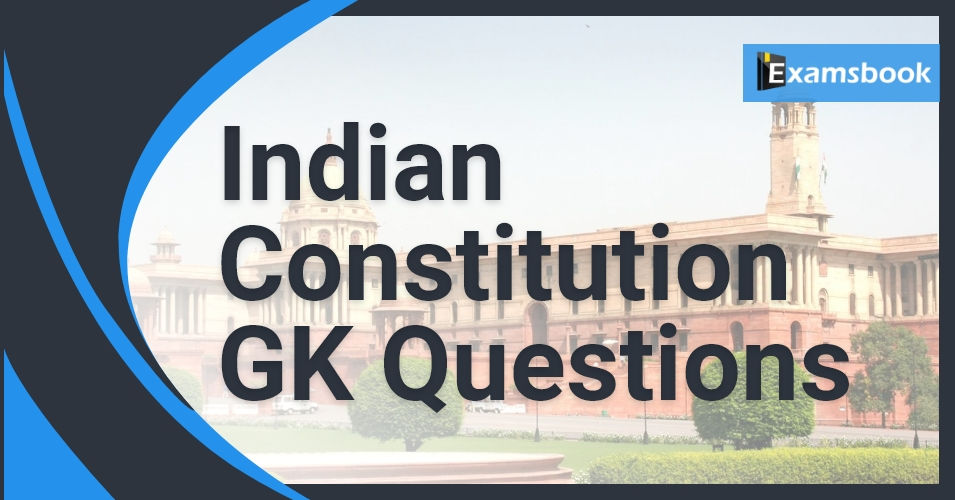 Indian Constitution is a collection of vast databases. So, we have summarized the Constitution of India in an important GK question answers edition. Constitution of India-related best GK questions is frequently asked in UPSC, IAS, IPS, PSC, SSC, CAT, BANKING PO, IFS, MULTITASKING STAFF, TET, RAILWAYS, UDC, LDC, and almost every state and central level exam in India.
These important GK question answers touch on each & every single point of the Indian Constitution, including the preamble of the Indian Constitution, Indian constitutional history, drafting and constituent assembly of India, articles-parts-schedules-appendices of Indian constitution, president's rule, constitutional power, Indian political system, parliamentary system, legislature, judiciary, constitutional amendment, etc.
Indian Constitution Questions and Answers are an important part of the General knowledge section in competitive exams. In this section, many questions are asked related to Parliament, Amendments, Right, Duties, and the constitutional situation of our country. To cover this section you should study deeply of Indian Constitution.
Indian Constitution GK Questions
Today I am providing Indian Constitution Questions and Answers for Competitive Exams. You can easily get 2-3 marks with the help of Indian Constitution Questions. This post of Indian Constitution Questions and Answers is very important for SSC and banking exams.     
 Students can quickly get free General Knowledge Mock Test and Current Affairs Mock Test on this platform for online exam practice to obtain good marks in competitive exams.
Choose a topic to practice Indian Constitution GK Questions:
For complete constitution general knowledge choose from these blogs.
Constitution Questions and Answers
Q :  

The salary of the President is
(A) Fixed in constitution
(B) Fixed by a law made by the Parliament
(C) It is mentioned in the Second Schedule of the Constitution
(D) All of the above

Correct Answer : C


Q :  

Setting a supreme court was Calcutta is a part of a ?
(A) Regulating Act of 1773
(B) Pitts India Act of 1784
(C) Charter Act of 1793
(D) Charter Act of 1893

Correct Answer : B


Q :  

In the 42nd Constitutional Amendment 1976, which word was added to the Preamble?
(A) Democratic
(B) Equality
(C) Secular
(D) Socialist

Correct Answer : C


Q :  

The first speaker of Lok Sabha was……
(A) K.M. Munshi
(B) C.D. Deshmukh
(C) G.V. Mavalankar
(D) H.J. Kania

Correct Answer : C


Q :  

Jana Gana Mana, was accepted as the National Anthem of India by the Constituent Assembly of India in which of the following years?
(A) 1950
(B) 1949
(C) 1948
(D) 1947

Correct Answer : A


Q :  

Which of the following Articles of the Constitution of India is related to the Uniform Civil Code?
(A) Article 46
(B) Article 43
(C) Article 44
(D) Article 45

Correct Answer : C


Q :  The term Lok Sabha is normally
(A) 2 years
(B) 4 years
(C) 5 years
(D) 7 years

Correct Answer : C


Q :  

When was the Indian National Congress first partitioned after independence?
(A) 1969
(B) 1956
(C) 1971
(D) 1973

Correct Answer : A


Q :  

Who was the first lady Governor of an Indian State?
(A) Sucheta Kripalani
(B) Padmaja Naidu
(C) Tarkeswari Sinha
(D) Sarojini Naidu

Correct Answer : D


Q :  

How many seats are reserved for representatives of Scheduled Castes and Scheduled Tribes in Lok Sabha?
(A) 39
(B) 85
(C) 109
(D) 131

Correct Answer : D


Showing page 1 of 14
en
https://www.examsbook.com/indian-constitution-questions-and-answers-for-competitive-exams
14
1
indian-constitution-questions-and-answers-for-competitive-exams