Indian Constitution GK Questions and Answers for Competitive Exams [MCQ]
59c8cdffe846504cc510c664
595217d8febf4b764b059d3a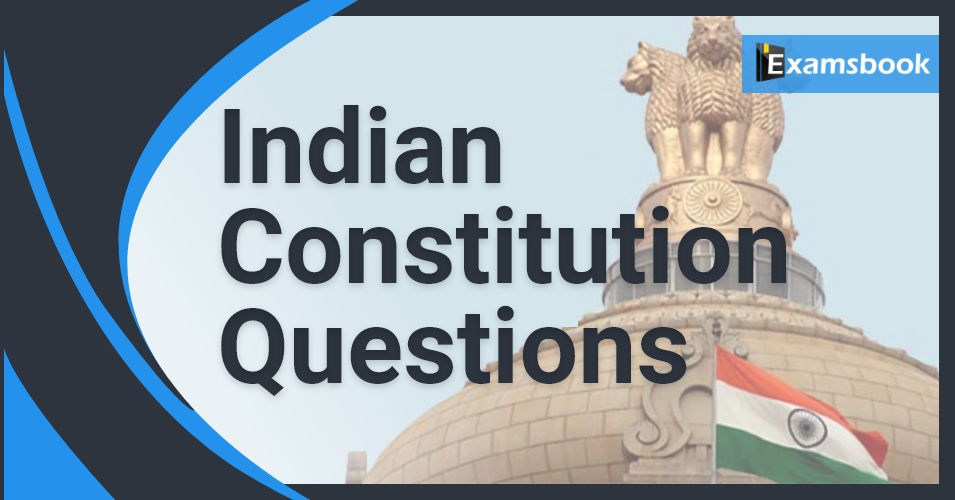 Here are the selective and important Indian Constitution GK questions with answers for all types of competitive exams. Indian Constitution general knowledge questions have been asked in competitive exams and there are chances to ask again for competitive exams.        
So practice with MCQ Indian Constitution  Questions and Answers for upcoming competitive exams. You should also check 1000 latest GK Questions for 2018. 
Choose your topic to practice Indian Constitution Questions for 2020 
For complete Indian constitution GK preparation choose from these blogs.
Indian Constitution Gk Questions: Indian Constitution General Knowledge questions and answers
Q :  

Who has the right to transfer any case anywhere in India –
(A) Supreme Court
(B) High Court
(C) Local Court
(D) Panchayat

Correct Answer : A


Q :  

If the President of India wants to resign, he has to address the letter of resignation to the- 
(A) Chief Justice of India
(B) Prime Minister
(C) Vice-President
(D) Speaker

Correct Answer : C


Q :  

The maximum strength of Rajya Sabha is- 
(A) 220
(B) 200
(C) 250
(D) 240

Correct Answer : C


Q :  

In which part of the Indian Constitution, the Fundamental Duties are enshrined?
(A) IV
(B) IV-A
(C) IV-B
(D) V

Correct Answer : B


Q :  

The provision of the sixth schedule shall not apply in which one of the following states?
(A) Mizoram
(B) Goa
(C) Meghalaya
(D) Tripura

Correct Answer : B


Q :  

The 73rd amendment was brought into force to give effect to one of the Directive Principles of State Policy mentioned in:
(A) Article 47
(B) Article 40
(C) Article 45
(D) Article 46

Correct Answer : B


Q :  

In which of the following article the right to create a co-operative society is described? 
(A) 19 (1) (C)
(B) 20
(C) 19
(D) 19 (B)

Correct Answer : A


Q :  

Name of the first deputy Prime Minister of India? 
(A) V.R. Gill
(B) D.B. Mahawar
(C) R.N. Shukla
(D) Sardar Vallabh Bhai Patel

Correct Answer : D


Q :  

Panchayati Raj belongs to___.
(A) Residual list
(B) Concurrent list
(C) State list
(D) Union list

Correct Answer : C


Q :  

Is the judiciary of the Guwahati High Court?
(A) Nagaland
(B) Arunachal Pradesh
(C) Assam
(D) All of the above

Correct Answer : D


Showing page 1 of 16
en
https://www.examsbook.com/mcq-indian-constitution-gk-questions-answers-for-competitive-exams
16
1
mcq-indian-constitution-gk-questions-answers-for-competitive-exams