Indian Geography Objective GK Questions and Answers for Competitive Exams
58f51ee78f57a10c7572c9f4
595217d8febf4b764b059d3a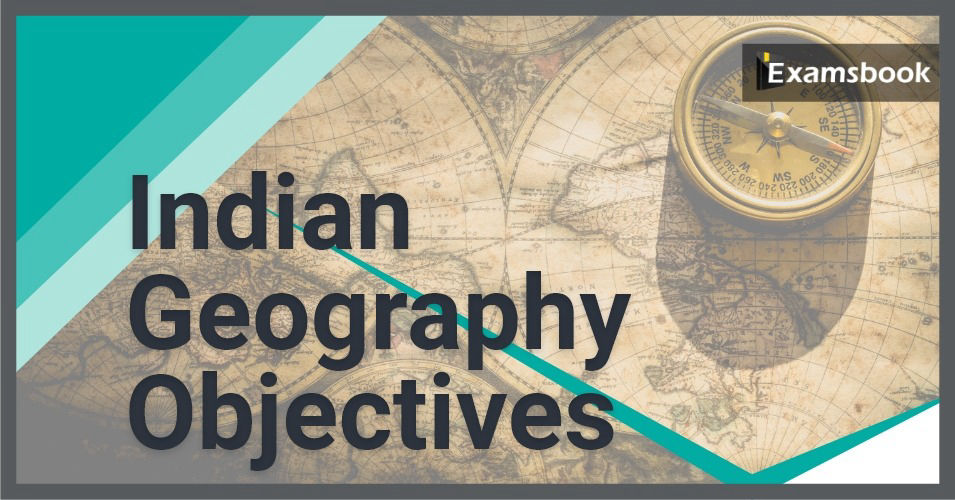 Geography related gk related questions and answers, Geography related general knowledge questions and quizzes, quiz on Geography, important general knowledge questions related to Geography, important gk questions, ssc cgl gk questions, ssc sample papers,gk questions for ssc,gk questions for ssc cgl, gk for IAS, GK for RAS, Geography general knowledge related questions and answers,questions and quizzes, quiz on History, important gk for ssc cgl.This questions are useful for any competitive exam like IAS, bank PO, SSC CGL, RAS, CDS, UPSC exams and all state related exams.
Today I am providing Indian Geography objective Questions for Competitive Exams. You can easily get 2-3 marks by practising Indian geography general knowledge questions and answers. This post on Indian geography GK Questions for Competitive Exams is very important. You should also check General GK Questions and Answers for complete preparation of GK on a single page.  Here's a blog of Indian geography General Knowledge questions and answers.  As you know Indian Geography Objective Questions are a very useful topic for Competitive Exams as like Rajasthan GK Questions in Hindi.  
Also, Read Latest Current Affairs Questions 2023: Current Affairs Today
Students can quickly get free General Knowledge Mock Test and Current Affairs Mock Test on this platform for online exam practice to obtain good marks in competitive exams.
Choose your topic for Indian Geography Questions:  
Let's practice these Indian geography questions and answers for exams.
Indian Geography Questions and Answers
Q :  

Write the name of the player who has won the gold medal in the men's shot put event of the AFI National Throw Championship.
(A) Inderjit Singh
(B) Om Prakash Singh
(C) Tejinderpal Singh Toor
(D) Tek Chand

Correct Answer : C


Q :  

Pramerica Life Insurance Limited has recently appointed whom as its new Managing Director?
(A) Pankaj Gupta
(B) Ajay Mathur
(C) Yogesh Sachan
(D) Pankaj Awasthi

Correct Answer : A


Q :  

Write the name of the mountain range, which mountain range starts near Gujarat and goes east through Maharashtra and Madhya Pradesh to Chhattisgarh?
(A) Vindhya range
(B) Aravalli range
(C) Toba Kakar series
(D) Satpura range

Correct Answer : D


Q :  

What is the approximate length of the Konkan Railway?
(A) 580 km
(B) 760 km
(C) 940 km
(D) 1050 km

Correct Answer : B


Q :  

In which country is Rotterdam, the most important port of Europe located?
(A) Netherlands
(B) Belgium
(C) Germany
(D) France

Correct Answer : A


Q :  

If the meridian that determines the Indian Standard Time (IST) is given the status of Prime Meridian then what will be longitude of the International Date line?
(A) 97°30' West
(B) 97°30' East
(C) 82°30' East
(D) 180° East

Correct Answer : B


Q :  

The Dry Land farming is done in India in-
(A) 100 cm to 150 cm annual rainfall areas
(B) 35 cm to 75 cm annual rainfall areas
(C) 75 cm to 110 cm annual rainfall areas
(D) More than 150 cm annual rainfall areas

Correct Answer : B


Q :  

Sri Lanka is located near the southeast coast of India on the Palk Strait and on the other side of the Gulf of _____.
(A) Kutch
(B) Mannar
(C) Khambhat
(D) Cambay

Correct Answer : D


Q :  

Highest Ragi producing state of India is -
(A) Uttarakhand
(B) Tamil Nadu
(C) Maharashtra
(D) Karnataka

Correct Answer : D


Q :  

Which one of the following (Shifting Cultivation - Area) is not correctly matched?
(A) Ponam - Kerala
(B) Podu - Andhra Pradesh and Odisha
(C) Jhum - Assam
(D) Kumari - Madhya Pradesh

Correct Answer : D


Showing page 1 of 16
en
https://www.examsbook.com/indian-geography-objective-general-knowledge-questions-answers-gk
16
1
indian-geography-objective-general-knowledge-questions-answers-gk