Geography Important Questions Series
58f51ee78f57a10c7572ca85
595217d8febf4b764b059d3a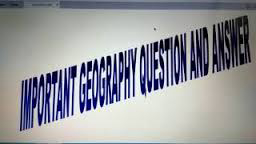 Very Important GK Questions of Geography
1. Who among the following was the first person to determine the Circumference of the Earth?
[A]Plato
[B]Aristotle
[C]Eratosthenes
[D]Ptolemy III Euergetes
2. Which of the following states is the only diamond producing state in India?
[A]Gujarat
[B]Rajasthan
[C]Madhya Pradesh
[D]Uttar Pradesh
3. The Bayyaram mines area, which was recently in news, is located in __?
[A]Andhra Pradesh
[B]Karnataka
[C]Tamil Nadu
[D]Madhya Pradesh
4. River Luni (Lavanavari river) originates from which among the following ranges?
[A]Himalaya Ranges
[B]Aravalli Ranges
[C]Vindhya Ranges
[D]Saputara Ranges
5. Which one of the following islands is called as 'rust belt' of Japan ?
[A]Northern Honshu
[B]Shikoku Islands
[C]Kyushu Islands
[D]Southern Honshu
6. People of which among the following countries are also known as Magyars ?
[A]Hungary
[B]Malaysia
[C]Hong Kong
[D]Spain
7. Which among the following a line or surface drawn on a map or chart indicates connected points of equal salinity in the ocean?
[A]Isohel
[B]Isohaline
[C]Isogyre
[D]Isodiaphere
8. Which among the following mineral is a carbonate of calcium and magnesium?
[A]Huntite
[B]Barytocite
[C]Dolomite
[D]Ankerite
If you like share the post and kindly do comment.
You may visit to next page by clicking next page number.
<!
Showing page 1 of 5
en
https://www.examsbook.com/geography-important-questions-series
5
1
geography-important-questions-series