Latest Indian Geography GK Questions and Answers
64088f5c1426f5b896a10d81
595217d8febf4b764b059d3a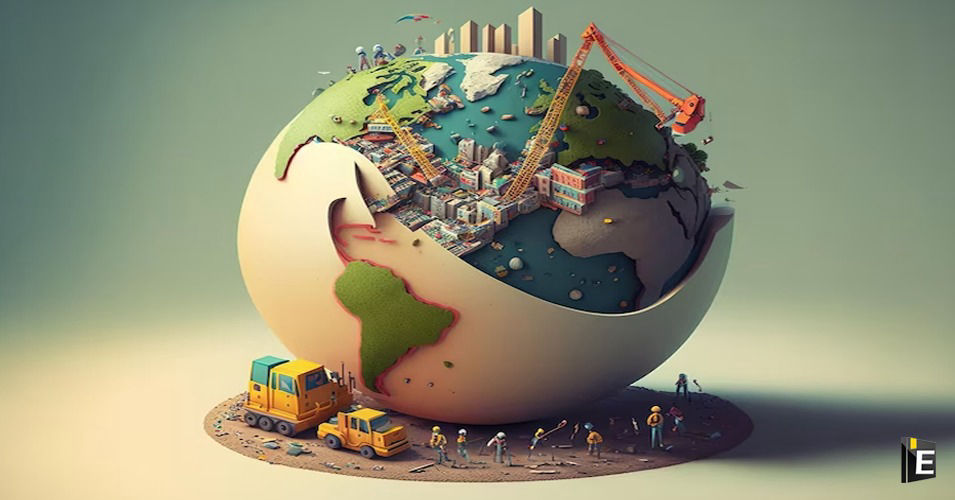 Geography GK questions are questions related to the study of the earth's physical features, natural resources, climate, and human populations. These questions are designed to test a person's knowledge of the world's geography and can cover a wide range of topics. Some common geography GK questions are included in this article. By the study of these questions, you can command Indian Geography GK Questions.
Indian Geography GK
Here, I am sharing Latest Indian Geography GK Questions and Answers related to the earth's physical features, natural resources, climate, human population etc for those aspirants who are preparing for upcoming competitive exams. You can easily command on Indian Geography GK section to read this article.
Also, Read Latest Current Affairs Questions 2023: Current Affairs Today
Students can quickly get free General Knowledge Mock Test and Current Affairs Mock Test on this platform for online exam practice to obtain good marks in competitive exams.
Latest Indian Geography GK Questions and Answers
  Q :  

In which country is Rotterdam, the most important port of Europe located?
(A) Netherlands
(B) Belgium
(C) Germany
(D) France
Correct Answer : A
Explanation :
The Port of Rotterdam is the largest seaport in Europe, and the world's largest seaport outside of East Asia, located in and near the city of Rotterdam, in the province of South Holland in the Netherlands.
Q :  

Write the name of the mountain range, which mountain range starts near Gujarat and goes east through Maharashtra and Madhya Pradesh to Chhattisgarh?
(A) Vindhya range
(B) Aravalli range
(C) Toba Kakar series
(D) Satpura range
Correct Answer : D
Explanation :
The Satpura Range is a range of hills in central India. The range rises in eastern Gujarat running east through the border of Maharashtra and Madhya Pradesh and ends in Chhattisgarh.
Q :  

Which of the following statements are correct in relation to the vast plains of India?

1. India has the world's largest alluvium deposit

2. Bangar has new alluvium as compared to Khadar region

3. Khadar region is located in low altitude areas
(A) 1 and 2 only
(B) 2 and 3 only
(C) 1 and 3 only
(D) 1, 2 and 3
Correct Answer : C
Explanation :
Alluvial soils: Alluvial soils are widespread soils in India mostly in Northern Plains and River valleys. These soils cover 40% of the total area of the country. Hence statement a is correct These soils are depositional soils transported and deposited by rivers and streams. Alluvial soils are categorised as Khadar and Bangar based on deposition. Hence statement c is correct. Khadar - New alluvium, deposited by floods annually. Bangar- old alluvium, deposited away from flood plains. Both Khadar and Bangar contain Calcerous concentration (kankars). Khadar soil is more fertile than Bangar. Hence option d is correct. Alluvial soils are fertile soils. Their nature various from sandy, loam to clay. Hence statement b is correct. Alluvial soils contain an adequate amount of Potash, phosphoric acid and lime. Hence statement e is correct. These soils are intensively cultivated. They are suitable for the cultivation of Sugarcane, paddy, wheat and pulses. Hence statement f is correct. Alluvial soil colour varies from light grey to ash grey.
Q :  

In which part of the atmosphere 90% of the total amount of water vapor is present?
(A) Xome Circle
(B) Flat Circle
(C) troposphere
(D) Ozone Circle
Correct Answer : C
Explanation :
We humans live in the 
troposphere
, and nearly all weather occurs in this lowest layer. Most clouds appear here, mainly because 99% of the water vapor in the atmosphere is found in the troposphere. Air pressure drops, and temperatures get colder, as you climb higher in the troposphere.
Q :  

In the structure of the planet Earth, the core below the mantle is made up of which one of the following?
(A) Iron
(B) Aluminum
(C) Potassium
(D) Chromium

Correct Answer : A


Q :  

What is the difference between the local time of two places in crossing a longitude?
(A) 7 minutes
(B) 0 minutes
(C) 4 minutes
(D) 1 minute
Correct Answer : C
Explanation :
The difference between the local time of any two consecutive longitudes is 4 minutes. We know Earth completes one full rotation on its axis that is 360 degrees in 24 hours. Now 24 hours means 24*60= 1440 minutes And if we divide 1440 by 360 we will get 4 mins per degree.
Q :  

Which one of the following Indian states is almost as big as Poland in Europe?
(A) Bihar
(B) Orissa
(C) Maharashtra
(D) Madhya Pradesh
Correct Answer : D
Explanation :
Madhya pradesh is broadly as large as the European nation Poland. Madhya Pradesh means middle province, and it is located in the geographic heart of India.
Q :  

Which of the following geysers is located in the Bihar province of India?
(A) Sitakund
(B) Tapani
(C) Yamunotri
(D) Manikarna
Correct Answer : A
Explanation :
A spring is a place where water comes out of the earth's surface due to geothermal effects in the earth's crust. The state of Bihar is blessed with many hot springs. The water temperature here ranges from 30 to 70 degrees Celsius.
Q :  

Sri Lanka is located near the southeast coast of India on the Palk Strait and on the other side of the Gulf of _____.
(A) Kutch
(B) Mannar
(C) Khambhat
(D) Cambay

Correct Answer : D


Q :  

What is the approximate length of the Konkan Railway?
(A) 580 km
(B) 760 km
(C) 940 km
(D) 1050 km

Correct Answer : B


Showing page 1 of 4
en
https://www.examsbook.com/latest-indian-geography-gk-questions-and-answers
4
1
latest-indian-geography-gk-questions-and-answers