Modern Indian History GK Questions and Answers for Competitive
58f51ee78f57a10c7572ca6f
595217d8febf4b764b059d3a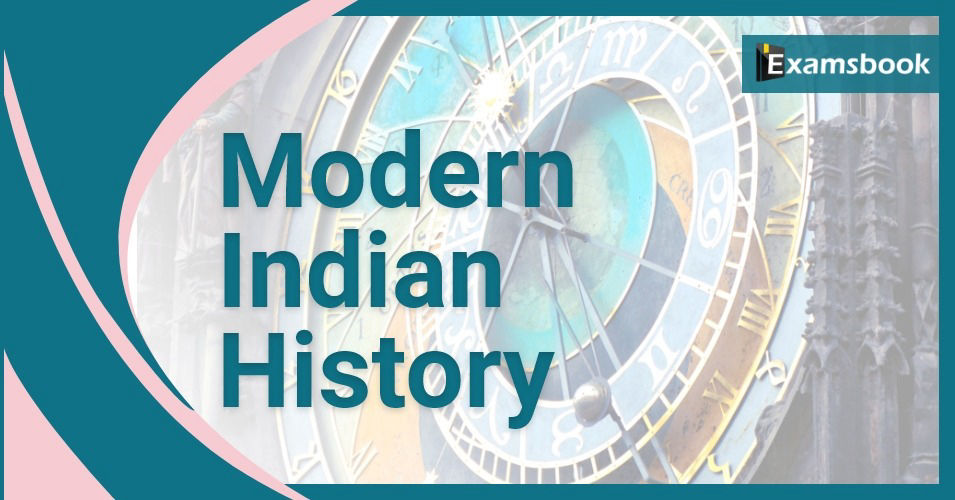 In this blog, I am providing Indian History GK Questions for Competitive Exams. You can easily get 2-3 marks with the help of these modern Indian History GK Questions and answers. This post on Modern Indian History General knowledge Questions is very important. 
As you know Indian History GK Questions and modern Indian History GK questions are very useful topics for SSC, Banking and other Competitive Exams. You should also check General GK Questions and Answers.  
Modern Indian History questions
Here, I am sharing Modern Indian History Questions with Answers for those aspirants who are preparing for upcoming competitive exams. These Modern History Questions will be helpful for you to crack any competitive exams. 
Also, Read Latest Current Affairs Questions 2022: Current Affairs Today
Students can quickly get free General Knowledge Mock Test and Current Affairs Mock Test on this platform for online exam practice to obtain good marks in competitive exams.
Choose a History topic for complete History Gk questions and Answers:  
Read all the Indian history by choosing these blogs.
Indian History questions
Q :  

Which of the following statements about Veda Samaj is correct?
I. It was established in Madras in 1864.
II. It worked to abolish caste distinctions and promote widow remarriage and women's education.
(A) Neither I nor II
(B) Only II
(C) Both I and II
(D) Only I

Correct Answer : C


Q :  

Rulers of Mahajanapadas in ancient India collected taxes on crops at the rate of _____ of what was produced. 
(A) 1/3rd
(B) 1/5th
(C) 1/6th
(D) 1/4th

Correct Answer : C


Q :  

Who among the following persuaded Mahatma Gandhi to allow women to join the Salt Satyagraha movement? 
(A) Kamaladevi Chattopadhyay
(B) Annie Besant
(C) Ashalata Sen
(D) Ambabai

Correct Answer : A


Q :  

Consider the following statements about a fort:
1. It was originally known as Mankal.
2. It was built on a hilltop in the year 1143.
In above mentioned sentences, forts is being talked about?
(A) Chitradurg Fort
(B) Daulatabad Fort
(C) Fort Aguada
(D) Golconda Fort

Correct Answer : D


Q :  

Identify the name of the traditional folk theatre form of Maharashtra.
(A) Nautanki
(B) Swang
(C) Tamasha
(D) Rasleela

Correct Answer : C


Q :  

 The popular sword dance in the Kumaun region of Uttarakhand is called-
(A) Lavani
(B) Chholiya
(C) Kathak
(D) Ghoomar

Correct Answer : B


Q :  

When did Mahatma Gandhi become the President of the Indian National Congress?
(A) Three
(B) Four
(C) One
(D) Two

Correct Answer : C


Q :  

Where was Bahadur Shah II exiled after the failure of the Revolt of 1857?
(A) Kabul
(B) Siberia
(C) Singapore
(D) Rangoon

Correct Answer : D


Q :  

Who lead the Battle of Plassey? 
(A) Warren Hasting
(B) James Heartly
(C) Robert Clive
(D) Lord Dalhousie

Correct Answer : C


Q :  

Who was the first Indian to go into space?
(A) Kalpana Chawla
(B) Rakesh Sharma
(C) Sunita Williams
(D) Ravish Malhotra

Correct Answer : B


Showing page 1 of 12
en
https://www.examsbook.com/modern-indian-history-general-knowledge-questions
12
1
modern-indian-history-general-knowledge-questions